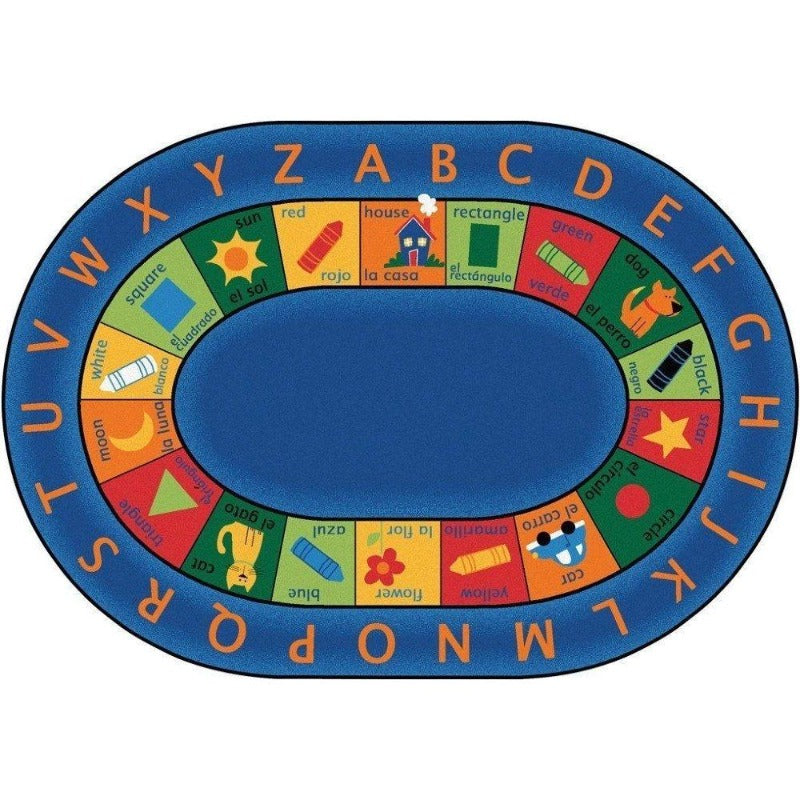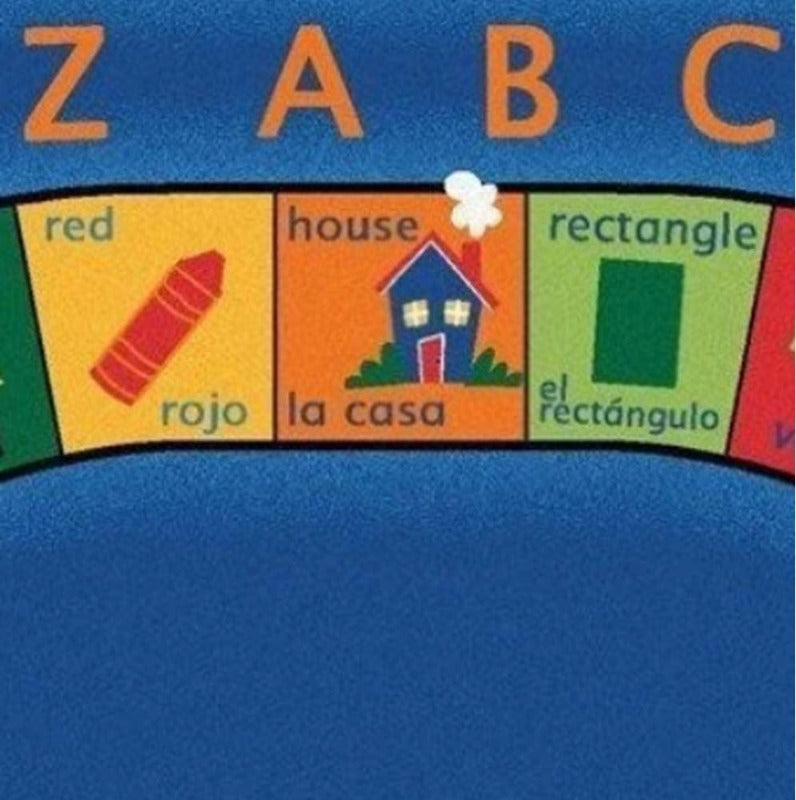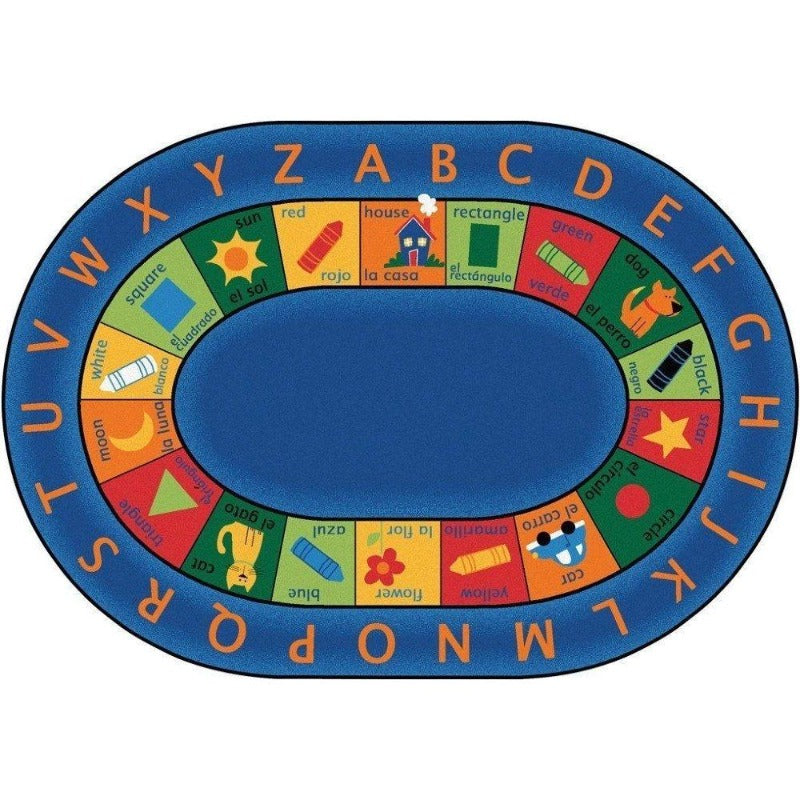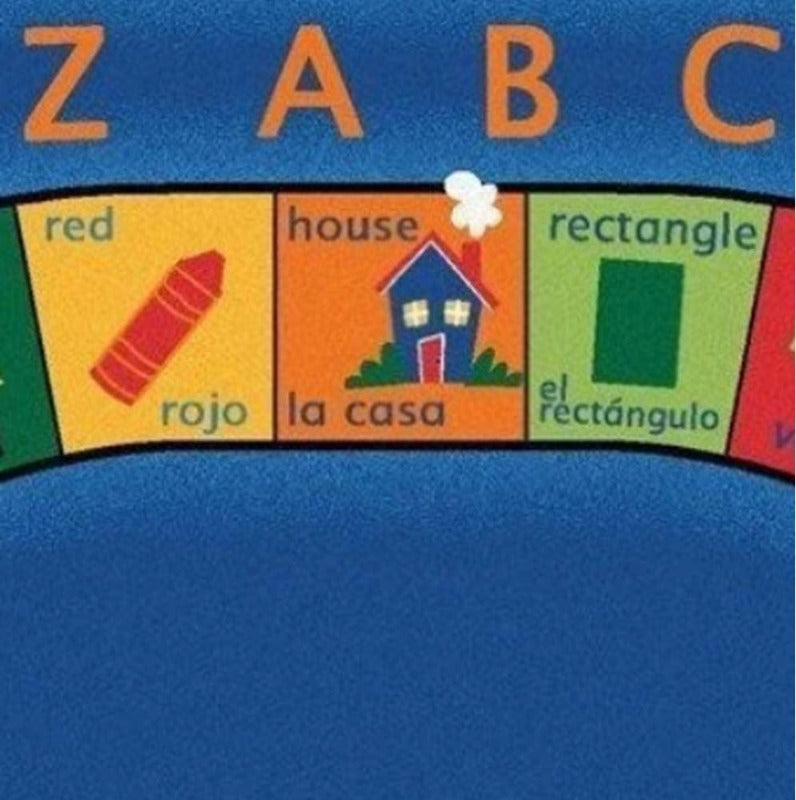 Bilingual Oval Rug
Product Description
Description

Delivery 3 - 7 Business Days
Description
Expand their horizons with every step on the Bilingual Oval Rug - where language and learning meet in perfect harmony
The Bilingual Oval Classroom Rug is a versatile and functional addition to any children s setting. This rug is perfect for circle time, playtime, or even story-time! The bilingual inner squares are designed to help kids learn not one but two languages while they play.
Sizes: 6'9 x 9'5 and 8'3 x 11'8 Oval 
The alphabet border adds a touch of learning as it helps young minds become familiar with letters and sounds. With its durable construction, this rug can withstand heavy foot traffic and all kinds of classroom activities. Whether you re teaching basic language skills or just looking for a comfortable spot for little ones to gather around, this rug is the perfect choice!
Promote Group Activities: This Circle Time Rug encourages group activities, allowing children to interact while learning important language concepts
Durable Material: Made from high quality materials, this rug can withstand heavy foot traffic and spills in busy classroom environments
Stylish Design: The Bilingual Oval Classroom Rug features an attractive design that complements any classroom decor while providing a functional educational tool for young learners
The wonderful Bilingual Oval Rug features 18 bilingual inner squares surrounded by an alphabet border, providing the perfect circle time rug for any classroom or children s setting.
The inner squares feature 6 simple icons, 6 colors and 6 shapes displaying their English and Spanish names. This is a high-quality rug made to last. You ll love the long term value.
Meets NFPA 253, Class 1 Firecode
Anti-Microbial, Carpet Stain and Anti Static Protection
Double-stitched serged edges
Made in the USA
Assists in allergen particle control
Green Label Plus Certified
Made by Carpets for Kids
Delivery 3 - 7 Business Days
This rug ships factory direct from Georgia.
Ground delivery is 3 - 7 Business Days
We will email you the tracking number when your order ships.
.Great source for school rugs
It is always a pleasure dealing with Sensory Edge. They have a great selection of top name brands at great prices and free delivery. Delivery is within days of ordering. I highly recommend them.