Jesus Loves the Little Children Oval Rug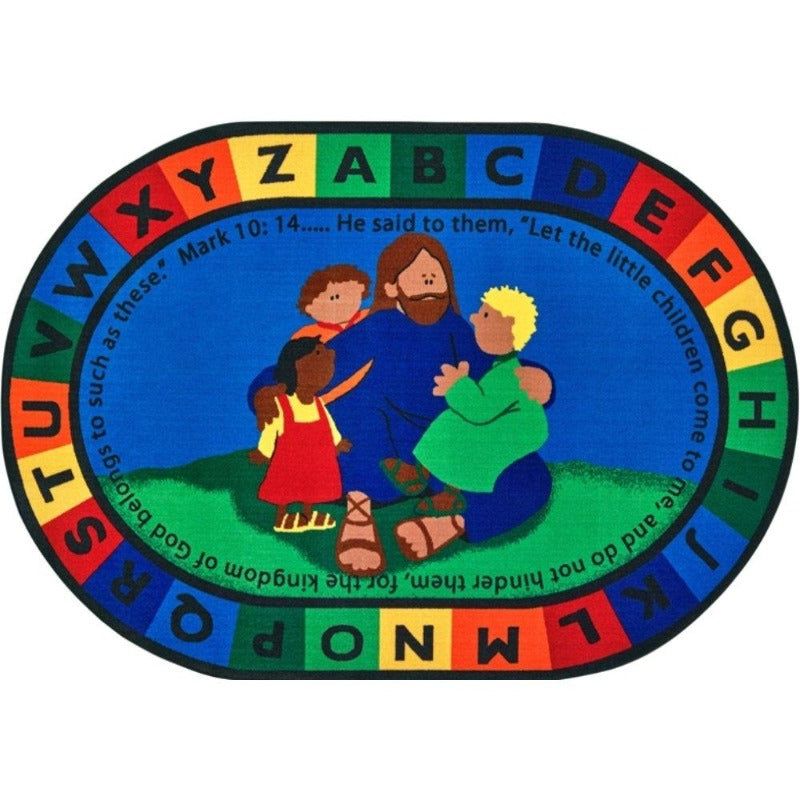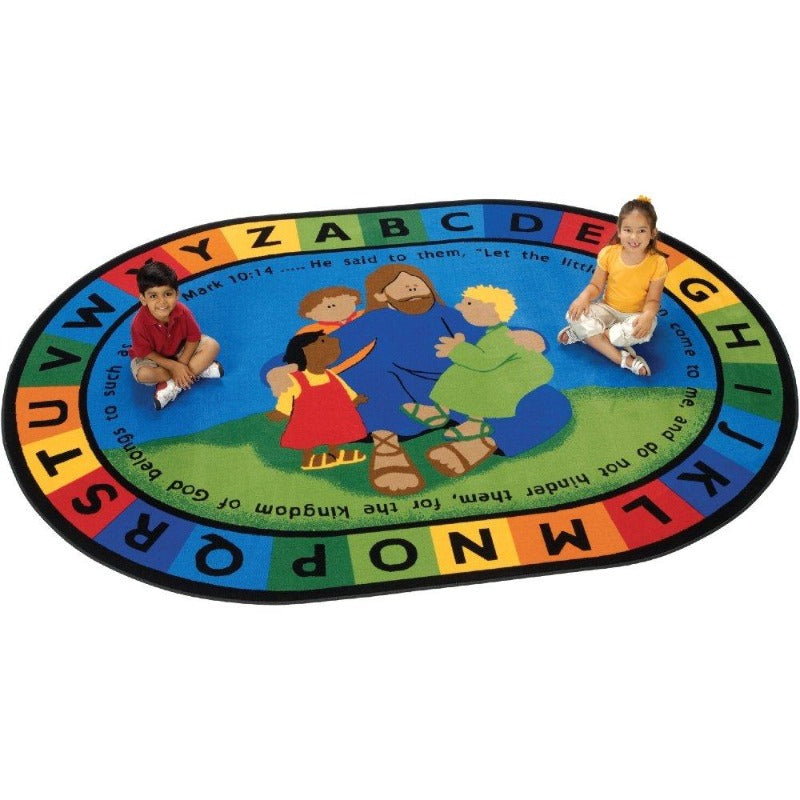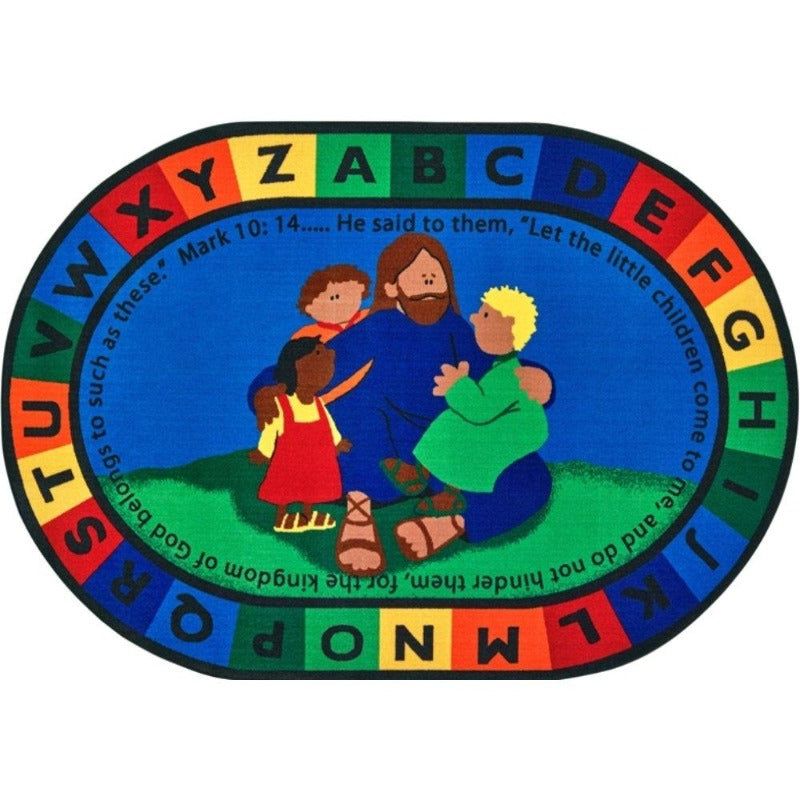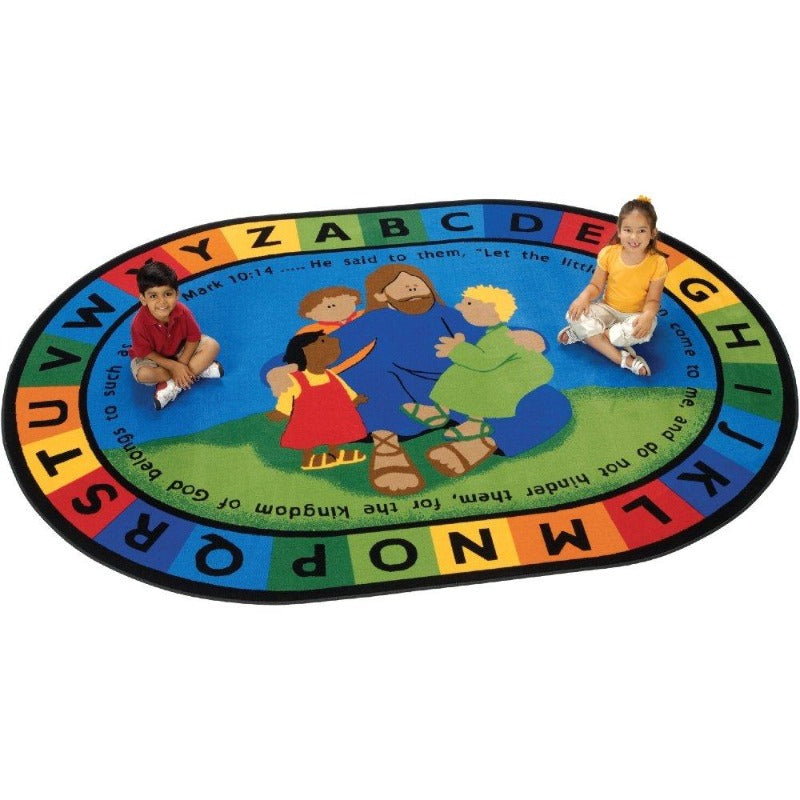 Jesus Loves the Little Children Oval Rug
Product Description
Description

Delivery 3 - 7 Business Days
Description
Let the Children come to Jesus feet, on this Oval Rug they ll find a seat. With Mark 10:14 in their hearts and a learning rug under their toes, Love and Comfort is all that flows
Transform your children s study area at home or church and into a welcoming and loving space with the Jesus Loves the Little Children Oval Rug. This rug not only features vibrant colors that will brighten up any room, but also includes a powerful message from Mark 10:14 in the Bible - "Let the little children come to me, and do not hinder them, for the kingdom of God belongs to such as these."
Sizes: 6' x 9' Oval and 8' x 12' Oval
Teaching your child about faith and love has never been easier than with this beautiful oval rug. Handcrafted with high-quality materials, it s durable enough to withstand even your little one s wildest adventures while providing comfort during playtime. Give your child a safe place to learn and grow with this truly special addition to their play area
The Jesus Loves the Little Children Oval Rug is a beautiful and meaningful addition to any child s room or play area
Featuring the Mark 10:14 bible verse, this rug serves as a gentle reminder of God s love for all children
Made by Carpets for Kids, this rug is durable and easy to clean, making it perfect for high traffic areas
With its vibrant colors and playful design, the Jesus Loves the Little Children Oval Rug will inspire hours of imaginative playtime fun
Share this loving message with Jesus Loves the Little Children Oval Rug. A welcome addition to Sunday Schools, circle-time, quiet time and playtime. It features Mark 10:14 bible verse all along the perimeter of the rug.
Right next to the bible verse is a colorful alphabet to appeal to children all around. The image of Jesus with children will bring a knowing smile to your bible school classroom. 
Made in the USA
Advanced Stain Protection
Class 1 Fire Rating
100% Continuous Filament Nylon
Green Label Plus Certified
Made by Carpets for Kids
Delivery 3 - 7 Business Days
This rug ships factory direct from Georgia.
Ground delivery is 3 - 7 Business Days
We will email you the tracking number when your order ships.
Right Price
I was looking for a circle time rug for my PK church class with the message that Jesus is for them. Wow- the oval rug works great for my 12 preschoolers.
awesome
I bought this rug for my daughter's classroom. All the kids in the class love it, the next door teacher was like "I wish you were one of my student's parents to have the rug in my room" :).
Love this rug!
This rug has brightened up our Pre/K classroom so much. All of the kids and teachers really love it! A great purchase at a great price!!
Beautiful bright area rug
We really like the rug. Everyone loves the picture and scripture.
great!
kids love it, teacher loves it!
5 star
Jesus Loves the Little Children Oval Rug 6' x 9'
5 star
Jesus Loves the Little Children Oval Rug 6' x 9'