God is Love Sunday School Oval Rug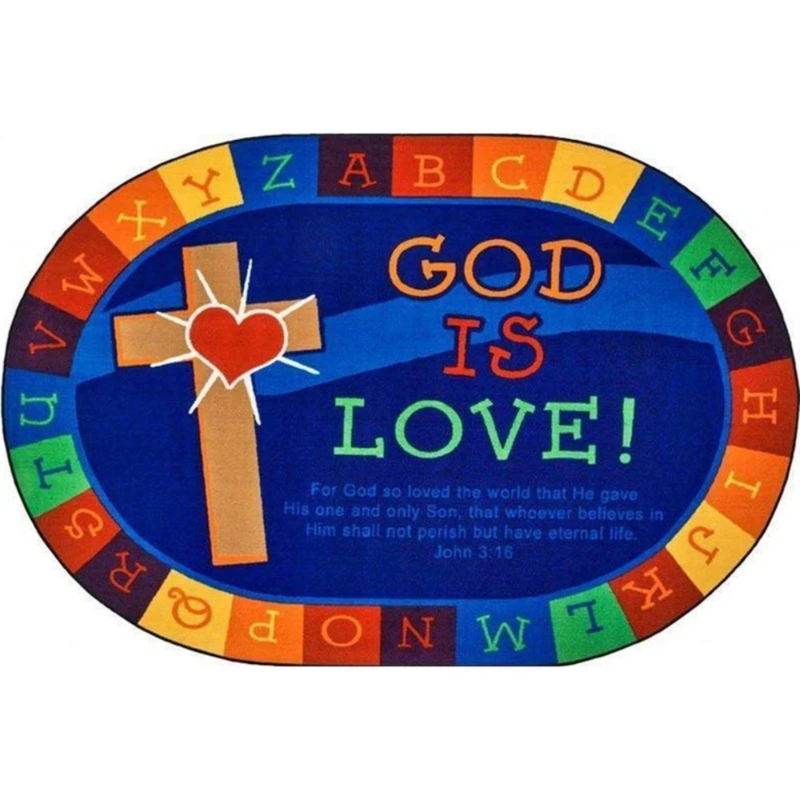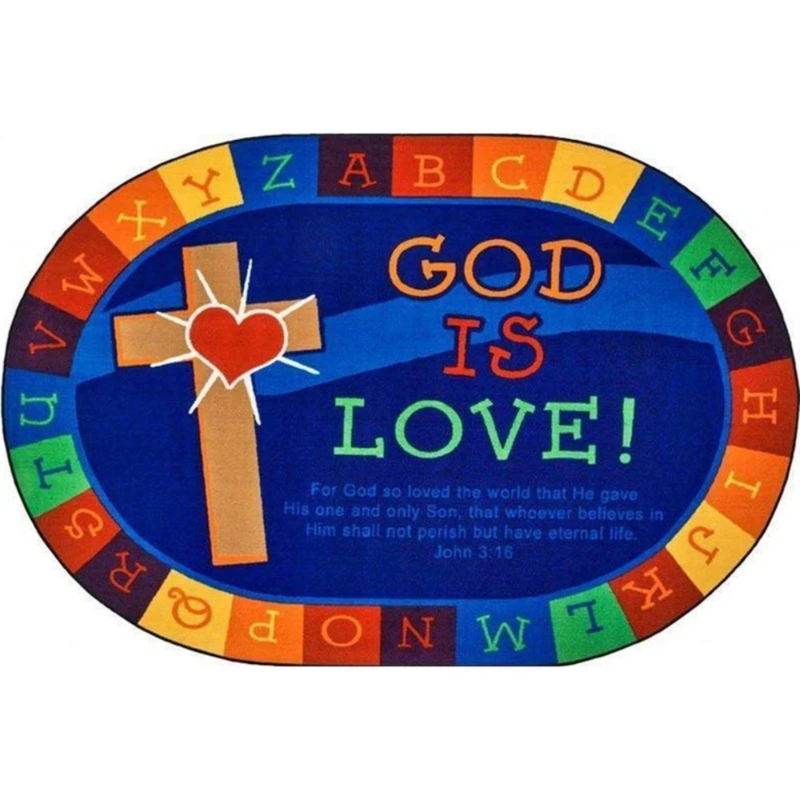 God is Love Sunday School Oval Rug
Product Description
Description

Delivery 3 - 7 Business Days
Description
Wrap your Sunday School with the warmth of Gods love and That Learning About His word is a Joyful Journey
Celebrate the eternal message of divine love with the God Is Love Sunday School Oval Rug. Crafted to inspire and educate young minds, this learning rug is an outstanding addition to any Sunday School classroom or home study area.
Sizes: 6' x 9' Oval and 8' x 12' Oval
Adorned with a richly detailed design depicting gentle white doves swooping around a central heart-shaped motif inscribed with Bible verse from 1 John: "God is love," it serves as a beautiful reminder of the spiritual foundations that guide us all in our daily lives. 
Made in the USA
KIDply Backing
Advanced Stain Protection
Class 1 Fire Rating
100% Continuous Filament Nylon
Green Label Plus Certified
Made from high-quality materials and featuring sturdy backing for maximum durability, this exceptional rug will provide years of faithful service to learners both big and small
The God is Love Sunday School Oval Rug provides a comfortable learning environment for children as they explore the teachings of the Bible
With its vibrant colors and inspiring message, this rug serves as a daily reminder that God s love is always present in our lives
By incorporating this rug into your Sunday School classroom, you can create an engaging and interactive space where kids can grow both spiritually and academically
Featuring a powerful Bible verse about love, this rug helps to reinforce important lessons about compassion, kindness, and empathy among young learners
Made by Carpets for Kids
Delivery 3 - 7 Business Days
This rug ships factory direct from Georgia.
Ground delivery is 3 - 7 Business Days
We will email you the tracking number when your order ships.
So pretty
We've been waiting for a new rug forever for our childcare room. It's so nice! I hope it lasts a long time! It's been 3 days, and it's still bright and new.
LOVE IT!!
The God is Love area rug that I purchased for my new Sunday School Classroom is perfect! The quality and design are excellent. Everyone that walks in to the room comments on the this rug first, and the little ones love it. The enjoy sitting on it for story time and love to march around on the alphabet as we sing.