Alphabet Farm Classroom Area Rug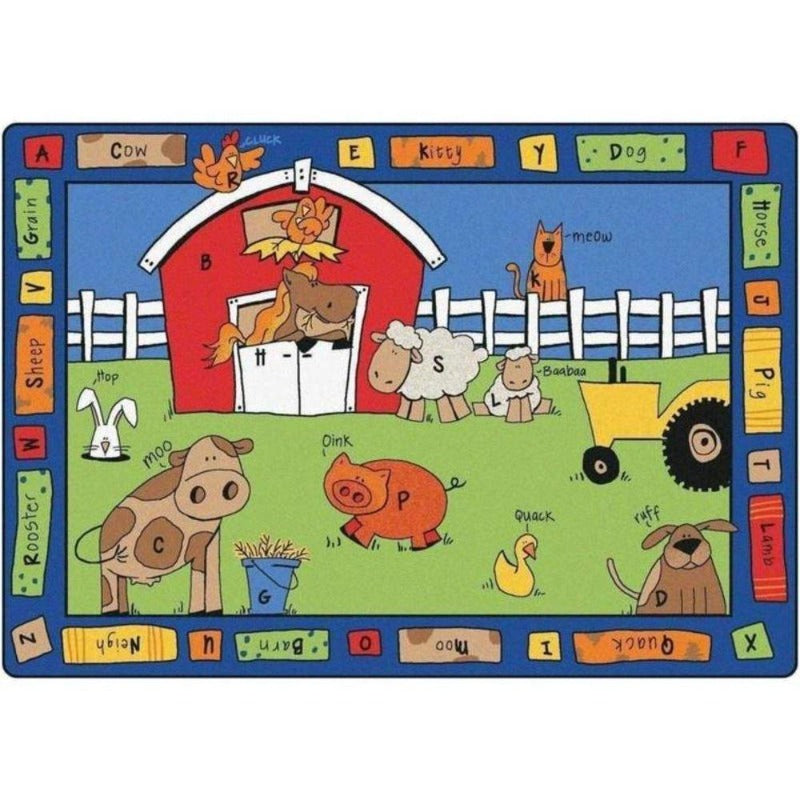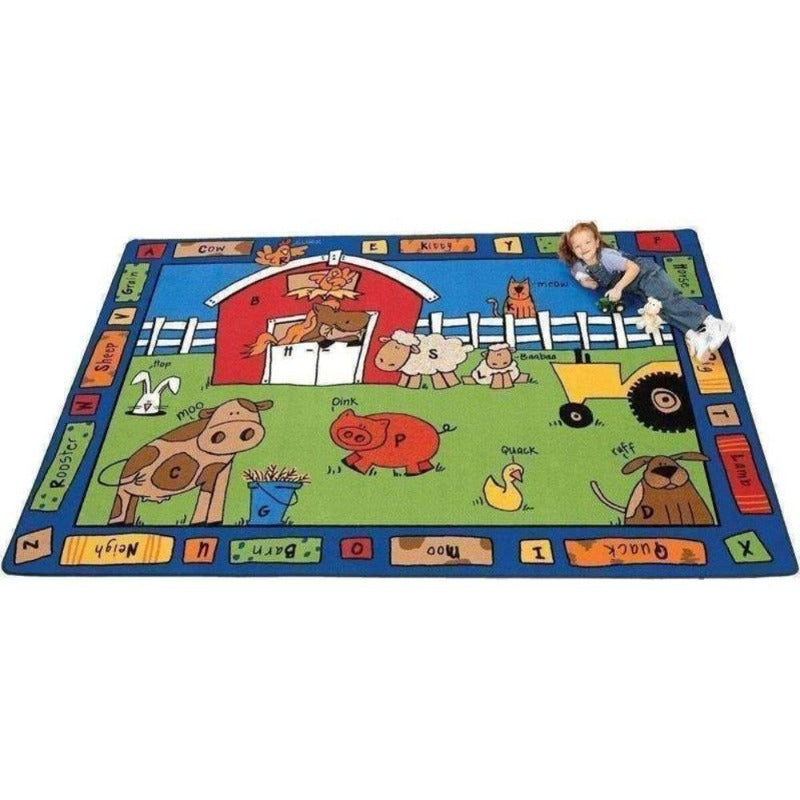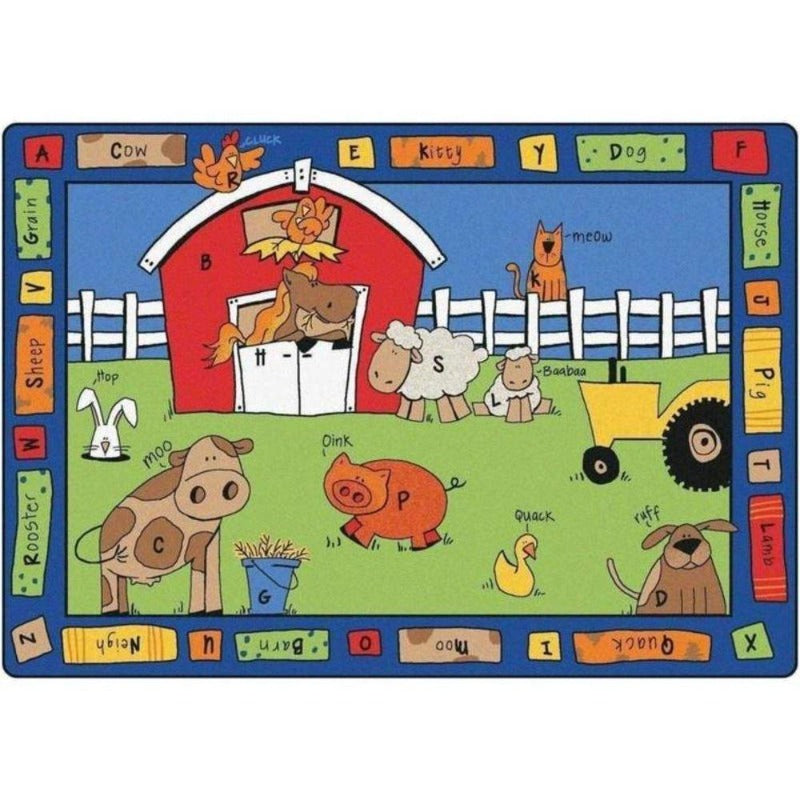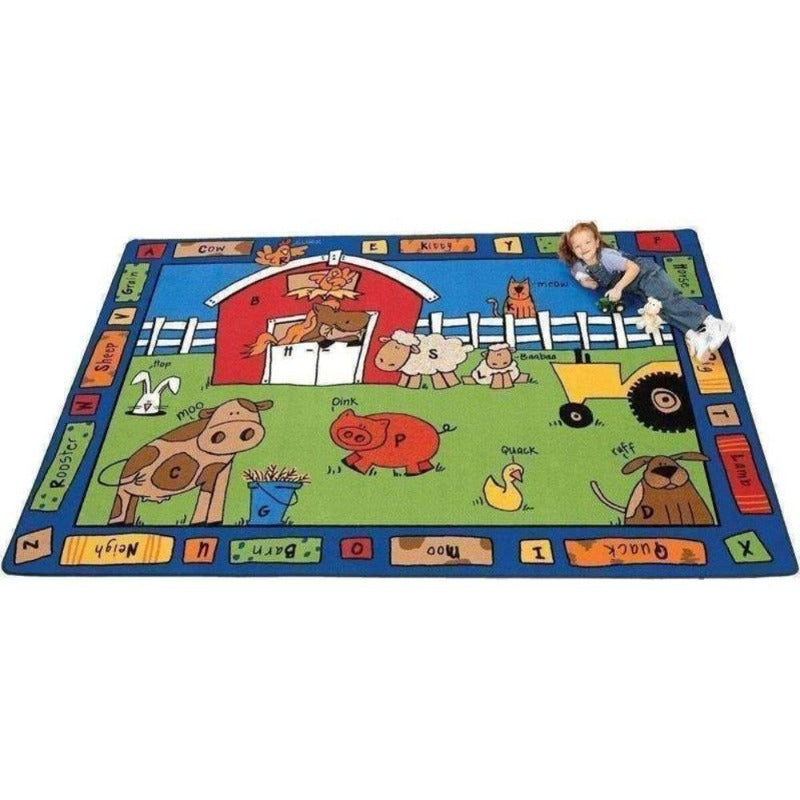 Alphabet Farm Classroom Area Rug
Product Description
Description

Delivery 3 - 7 Business Days
Description
The Alphabet Farm Rug is a fun place to sit and learn your letters! Ruff, Quack, Moo! Have fun with the animals on the farm while learning the alphabet and animal sounds. This cute and colorful rug will be a welcoming addition to any setting while providing a fun and easy way to teach the alphabet, character recognition and animal sounds!
Size: 4'5 x 5'10, 5'10 x 8'4 and 8'4 x 11'8
This charming high quality rug is designed to captivate young minds while fostering essential skills in a playful and interactive manner. This versatile rug accommodates various room sizes and layouts, making it a perfect fit for classrooms, daycare centers, or even the cozy corner of your home.
The Alphabet Farm Rug offers numerous benefits for early learners. Its animal-centric design not only sparks curiosity but also engages children in the world of letters and animal sounds. As kids sit and explore the rug, they are introduced to the alphabet in a vibrant and memorable way. Each letter is associated with an adorable animal that accompanies a distinctive sound. This multisensory experience aids in letter recognition, vocabulary development, and auditory comprehension.
The rug promotes character recognition, a fundamental skill for reading and writing. Children can trace their fingers along the letters, getting a tactile feel for each character. This tactile engagement enhances their understanding of letter shapes and prepares them for handwriting.
The Alphabet Farm Rug serves as a welcoming and visually stimulating environment. Its colorful and whimsical design sets a cheerful tone for learning. The rug fosters a sense of curiosity and wonder, encouraging children to explore and discover. Additionally, it can act as a gathering point for group activities and storytime, facilitating interaction and collaboration among young learners.
Anti Static Protection
Meets NFPA 253, Class 1 Firecode

Double-stitched serged edges
Carpet stain protection*
Made in the USA
Assists in allergen particle control
Meets the CRI s Green Label Plus certification
*Features True Stain Blocker Technology - Makes clean up a cinch using only hot water extraction with no harsh chemicals necessary. Tested to ensure carpets provide safe area for children to learn and play while supporting your efforts to provide a clean and healthy environment.
Made by Carpets for Kids
Delivery 3 - 7 Business Days
This rug ships factory direct from Georgia.
Ground delivery is 3 - 7 Business Days
We will email you the tracking number when your order ships.