Tranquil Tundra Classroom Seating Rug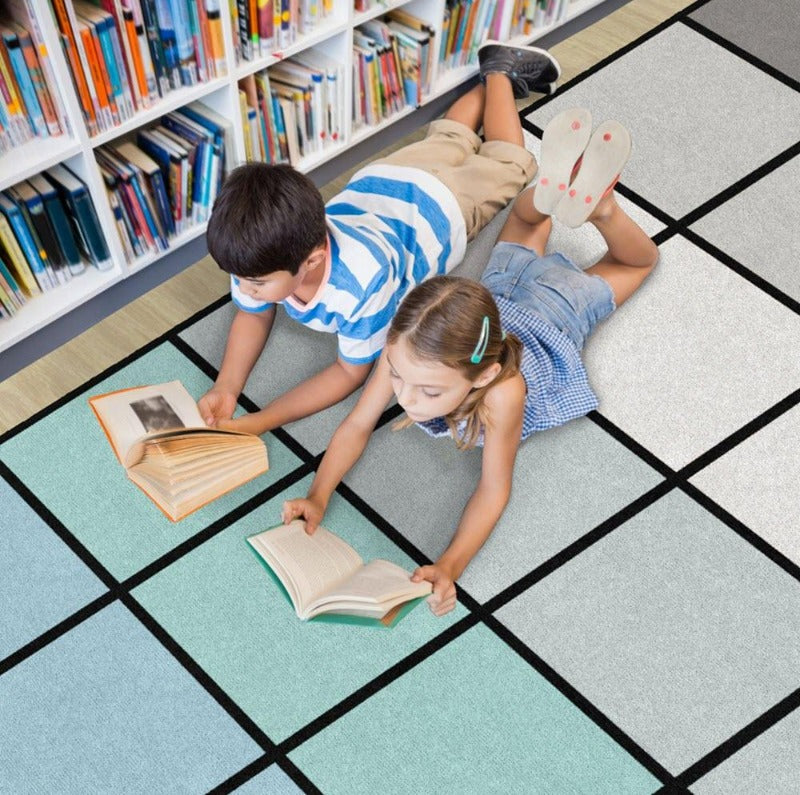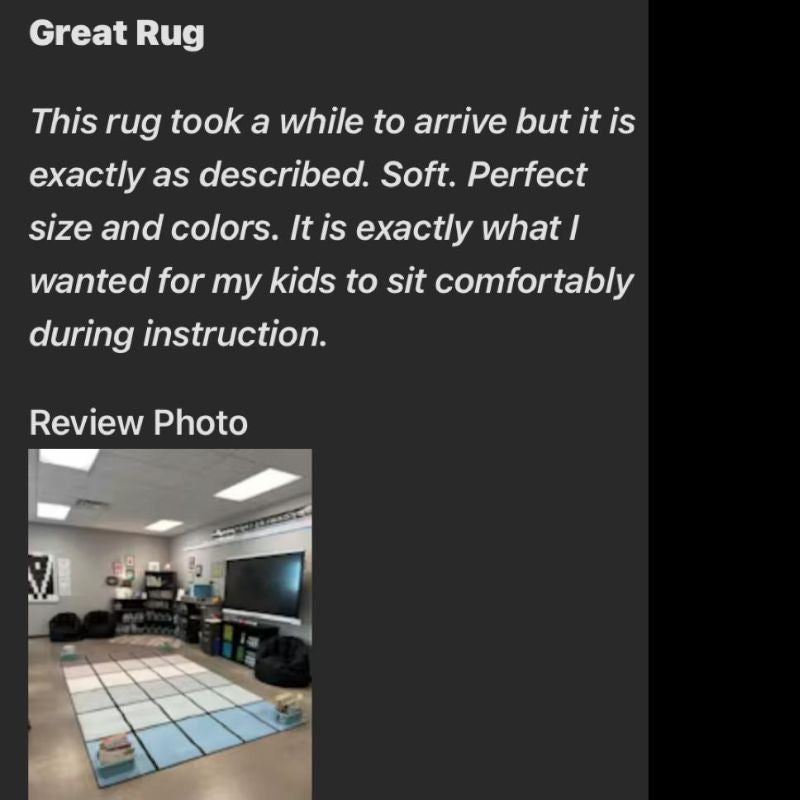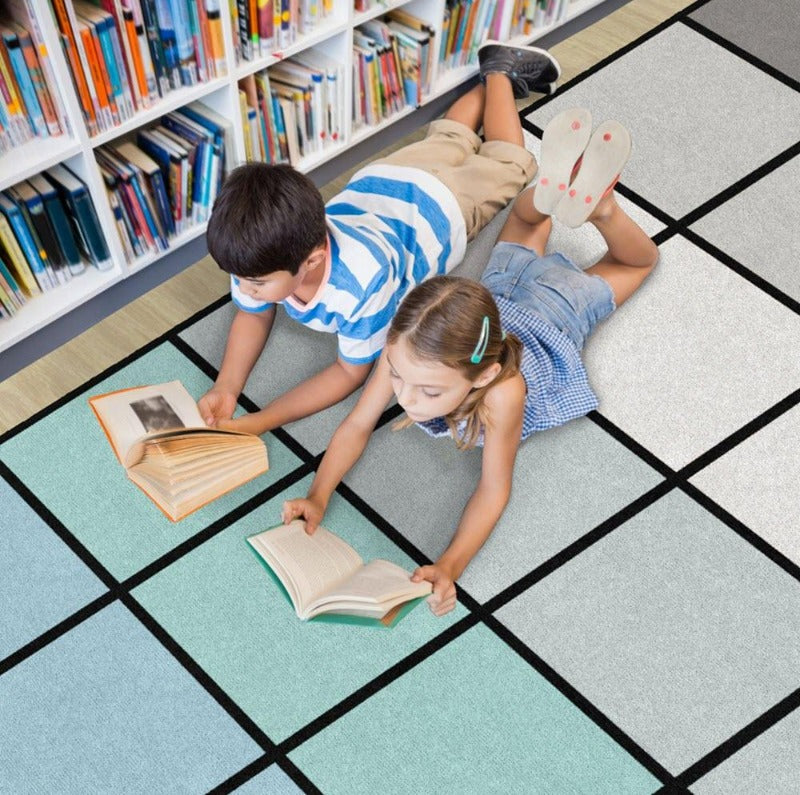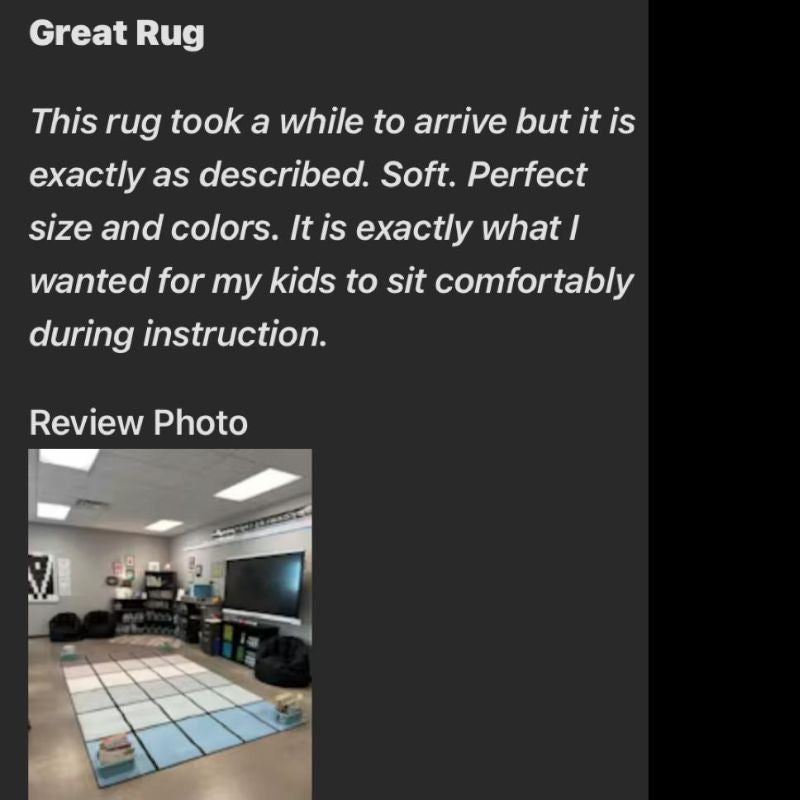 Tranquil Tundra Classroom Seating Rug
Product Description
Description

Delivery 3 - 7 Business Days
Description
Step into our Tranquil Tundra Rug, Where Boundaries in School Becomes a Summer Breeze
The Tranquil Tundra Classroom Seating Rug provides a muted area of colors where children can sit for lessons, games and interact with others. Help students understand boundaries in school.
Please measure your area and choose the right size
Light colors will show dirt from every-day foot traffic.
Sizes:
6' x 9' - 24 Seats are 17.5" x 17.5"
7'6 x 12' - 24 Seats are 23" x 22"
7'6 x 12' - 30 Seats are 23" x 17"
The Tranquil Tundra Classroom Seating Rug is perfect for setting boundaries in school without compromising on comfort. This classroom seating rug is made with high-quality materials and features calming colors that are sure to captivate young minds. 
The seats help enforce distance rules by providing designated areas for each student. With this amazing rug, your class can learn while staying comfortable in their own personal space. Invest in the Tranquil Tundra Classroom Seating Rug today and transform any classroom into a learning environment!
The Tranquil Tundra Classroom Seating Rug provides clear boundaries for students, helping to maintain order and structure in the classroom
With its calming design, this rug creates a peaceful atmosphere that can help students focus and stay engaged during lessons
In today's world of social distancing rules, this rug offers a practical solution for maintaining safe distances between students while still allowing them to work together comfortably
Made from durable materials that stand up to heavy use, this classroom seating rug is an investment in the future of your school or educational institution
Although you might not be able to grow trees on a tundra, you can grow young minds. Teach lessons about the earth on land, in the water and beneath our planet. Children's minds are sponges, they love learning about cool things that make our planet wonderful. 
Made in the U.S.A.
Anti Static and Stain Protection
Meets NFPA 253, Class 1 Firecode
Double-stitched serged edges
Assists in allergen particle control

Green Label Plus Certified
What is a Tundra? Tundras are characterized by cold climates, short growing seasons, and a thin layer of soil above a permanently frozen layer (the permafrost). This gives plants only a very short depth in which to grow roots, and so only low-growing plants can thrive in those conditions. 
Delivery 3 - 7 Business Days
This rug ships factory direct from Georgia.
Ground delivery is 3 - 7 Business Days
We will email you the tracking number when your order ships.
Great Rug
This rug took a while to arrive but it is exactly as described. Soft. Perfect size and colors. It is exactly what I wanted for my kids to sit comfortably during instruction.
Gorgeous, lush and well made
This rug is perfect for my classroom and was definitely worth the wait. I wanted to create a calming atmosphere and the soft colors tie everything together beautifully. I spend so many hours on my classroom and this rug makes me smile every day. My students love it!
Beautiful Rug! Love the size!
I love the colors and the size. It has 30 spots, and that's enough room for all of my students to have their own space! Love this rug!
Great purchase
The children love it! We are pleased with this purchase