On The Farm Activity Wall Toy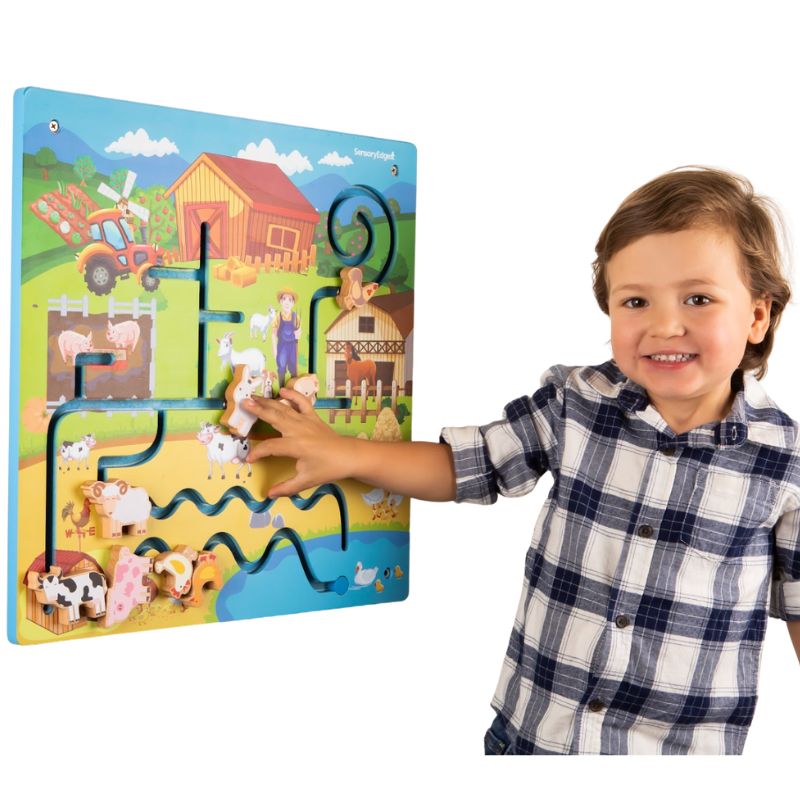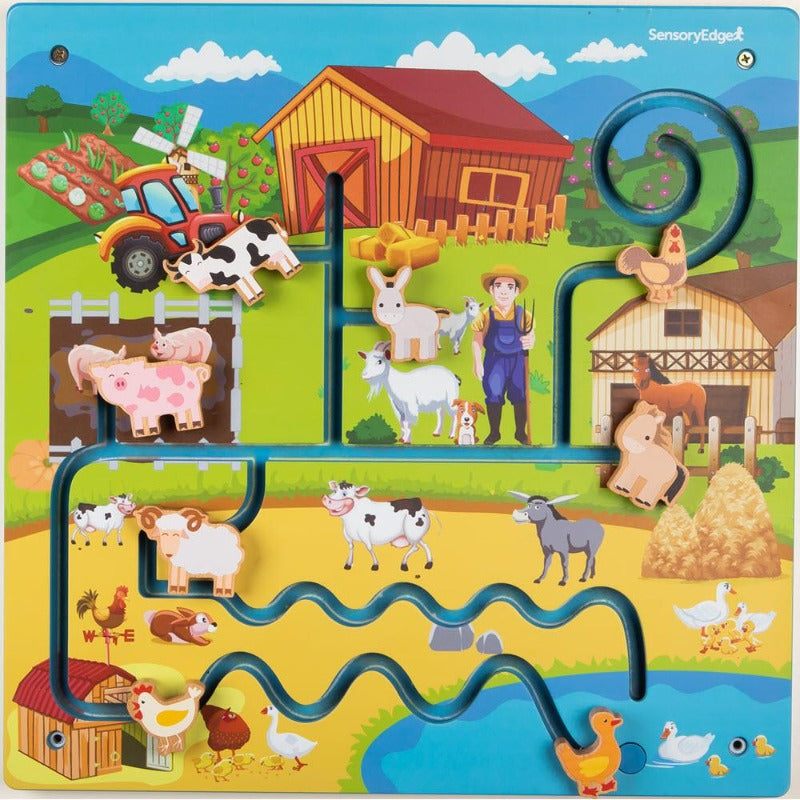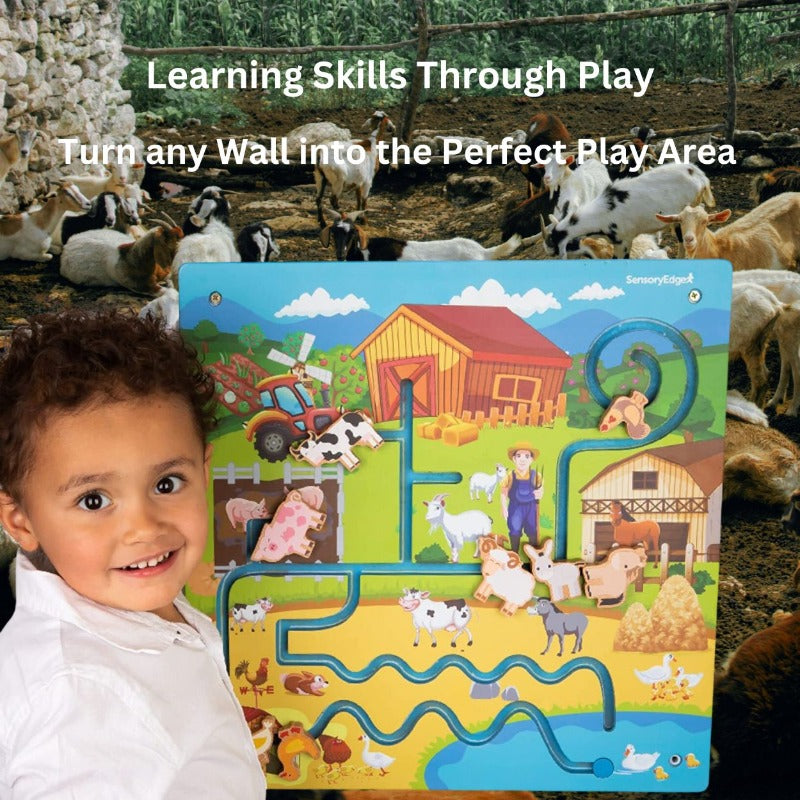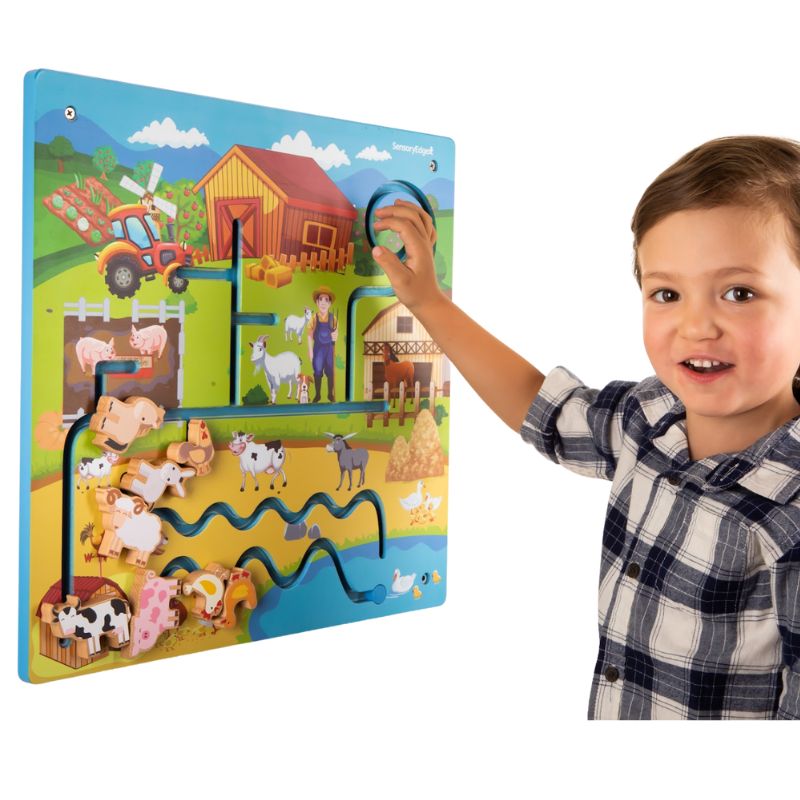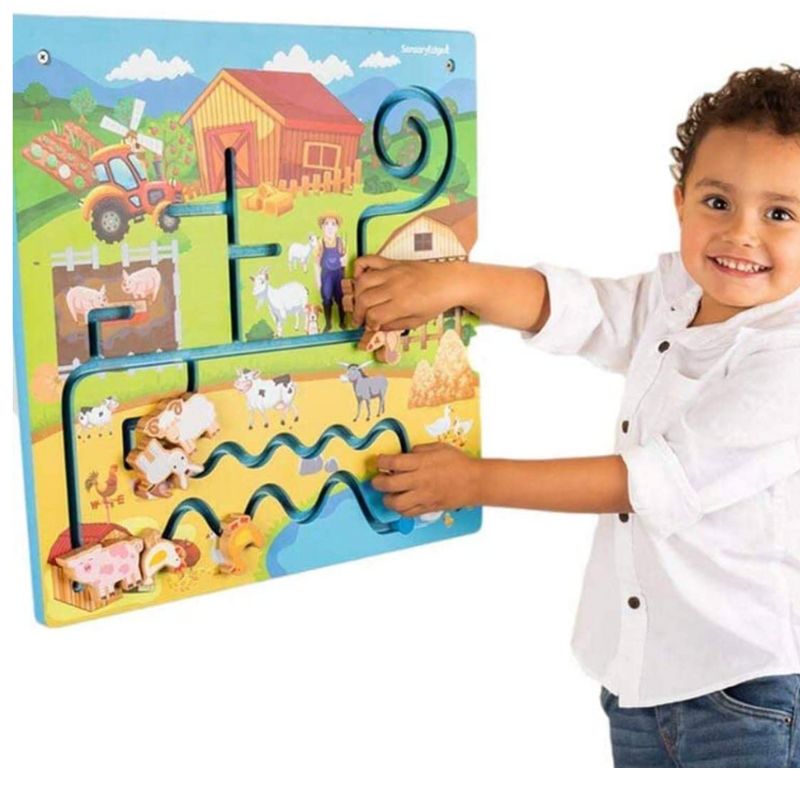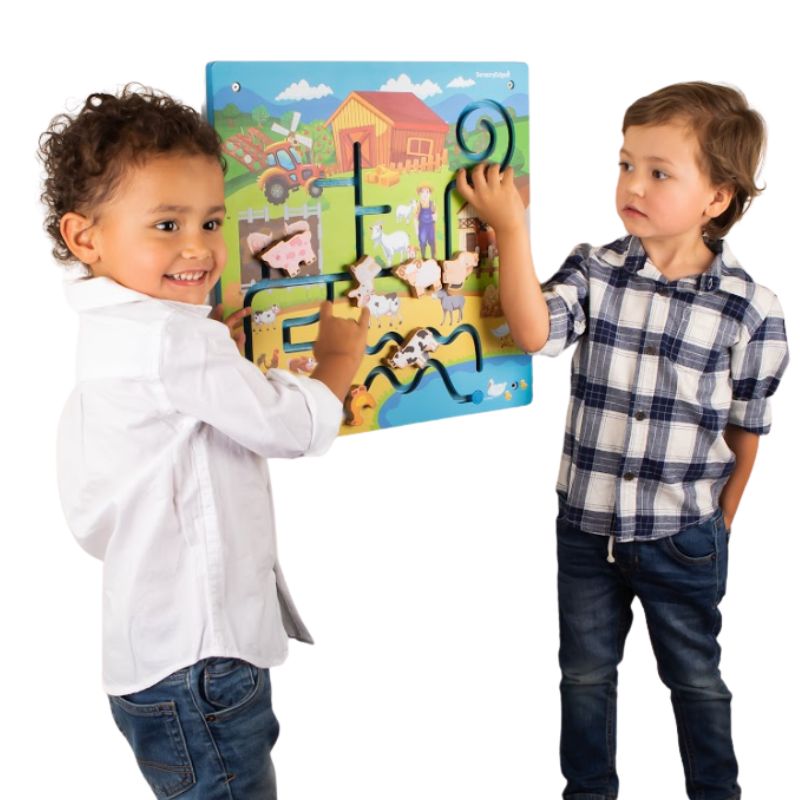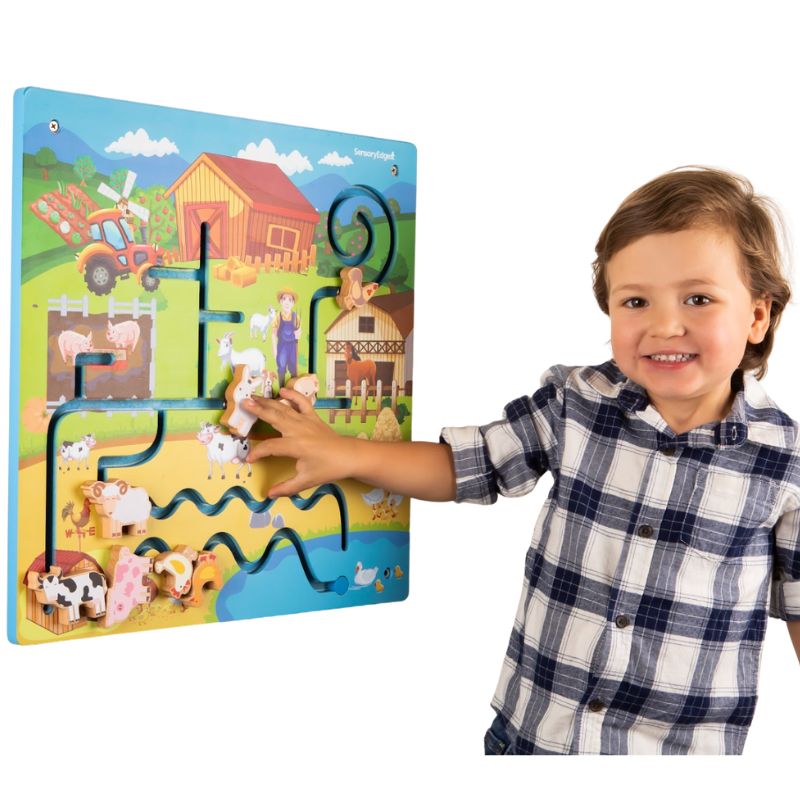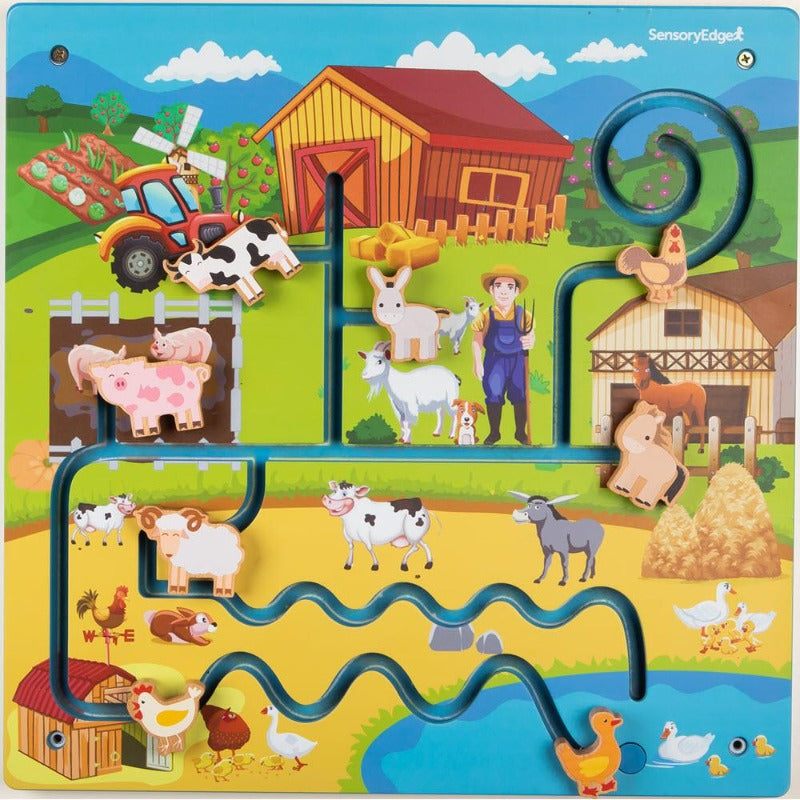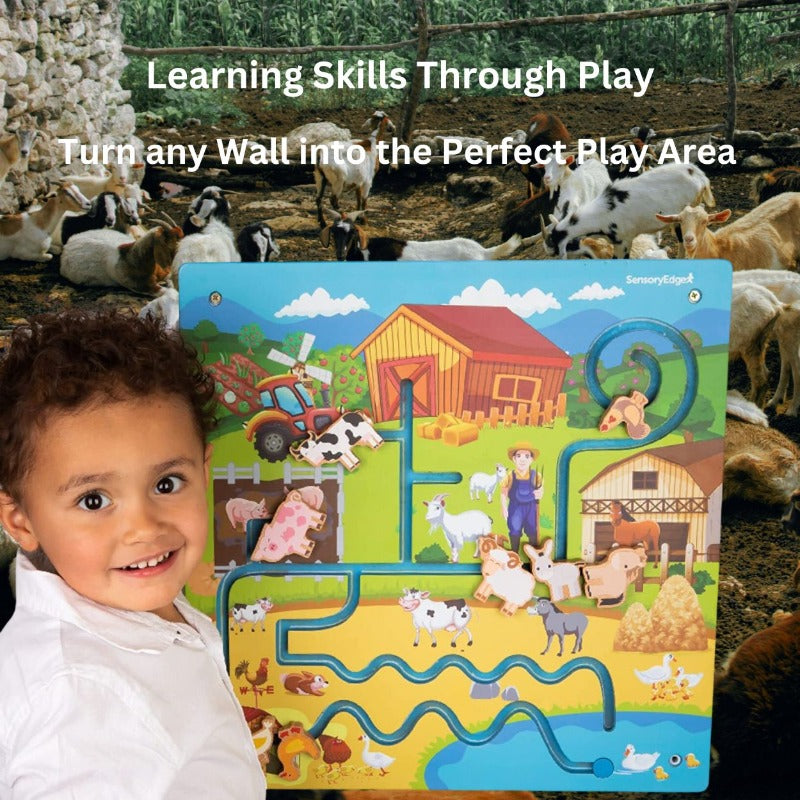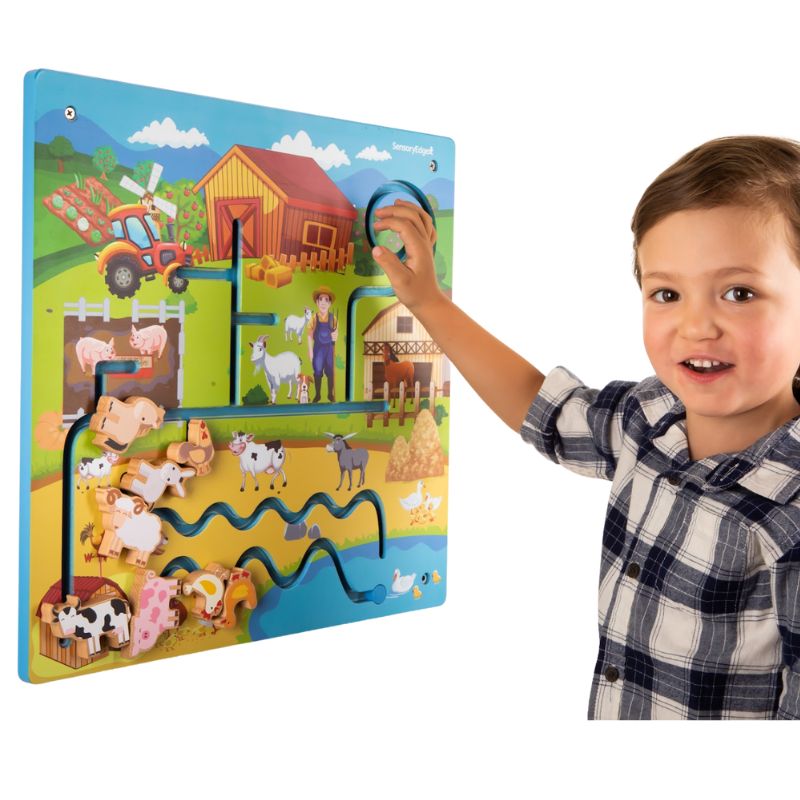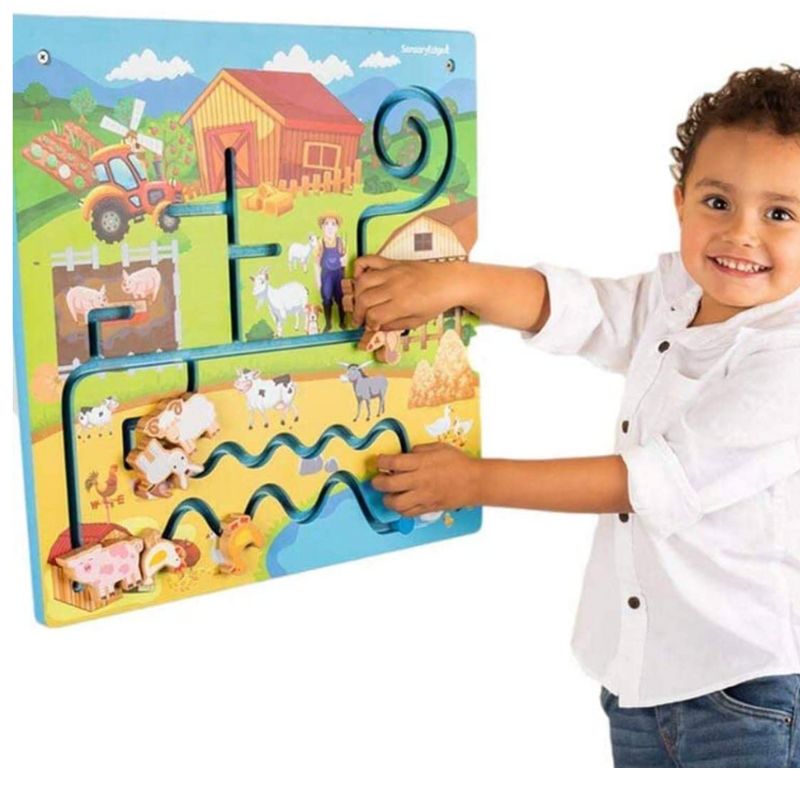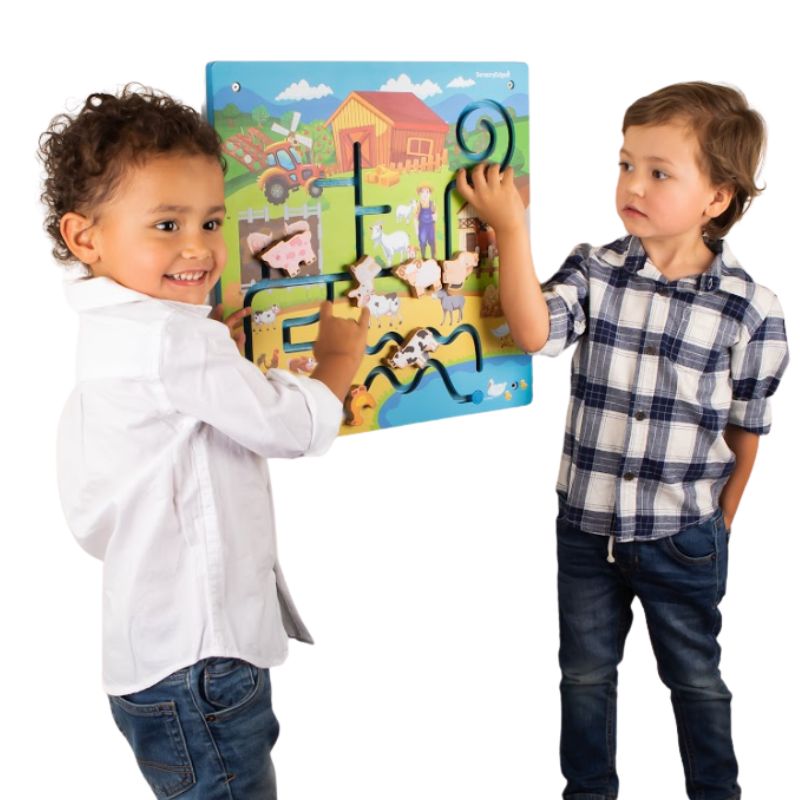 On The Farm Activity Wall Toy
Product Description
Description
The On The Farm Activity Wall Toy is a great introduction to the world of animals. Featuring chunky knobs and pathfinder groves that keep kids busy.
Children will love the easy moving parts and bright colors. Don't be surprised if you hears the sounds of barnyard creatures coming from the wall panel area!
Size: 17 3/4" x 17 3/4" x 3/4" 
This colorful pathfinder activity has moveable cows, goats, donkeys, ducks, pigs, chickens, a horse and a rabbit.
The farm panel has great colors that will draw kids to this fun toy. It will help improve fine motor skills, creative thinking and storytelling.
Use for animal lesson plans in class or as a way to introduce city children to the beauty of the world of farms. 
Designed for walls but can also be mounted on tabletops.
🐄 Chunky Knobs
🐤 Colorful Graphics
🐓 Fine Motor Skills
🐖 For Home or Office
SensoryEdge Exclusive Wall Toy
The pre-drilled holes make it easy to mount with the included anchors and screws.

Fully tested according to the highest consumer standards

Decorate toddler rooms, therapy clinic walls and waiting area spaces

Small footprint but big fun. Keeps children busy and entertained 
Please Note:
We will ship this item to Alaska and Hawaii. Additional fees apply to cover the shipping. Please call or email for more information.
We can ship this item via USPS Priority Mail. Additional fees apply to cover the faster shipping. Please call or email for more information.
WALL TOYS Provide BIG FUN in SMALL SPACES - Our On The Farm Activity Wall Toy WOODEN Interactive WALL Panel will delight children as they move the Animals through the beautifully designed Farm Scene. Our ACTIVITY WALL MAZE Toy can turn walls into a play area. Mount this kid's room décor at the right height for your child for the perfect fit. You can raise it as they grow or get the set and place them at different heights for a greater age range.

BUILDING SKILLS THROUGH PLAY is how kids learn. We designed our Kids Learning Decor Activity Center to have play with a purpose. The vibrantly colored chunky animal shapes glide through the toddler ACTIVITY BOARD and are perfect for toddlers and preschoolers. The activity will help build fine motor skills, hand-eye coordination, visual tracking, and finger strength. All necessary for pre-writing skills.

SAFE & STURDY WALL GAME to keep your little ones learning and playing while you have peace of mind. Our wall panels are fully tested to the highest standards. There are no loose pieces to swallow or lose. No assembly required – just install the wall panel by mounting the Sensory Busy Board on the wall with the included hardware then let the kids play the day away. The advantage of a learning activity center with a space-saving design.

The PERFECT KID SIZE WALL GAMES - our On the Farm Wall Mounted Busy Boards Games are just 17.75" x 17.75" and weigh about 4 lbs. The Sensory maze puzzles are made of wood, are excellent toys for kids of all abilities, and can help turn any wall into the perfect play area in your home, office, or therapy centers.
"The farmer has to be an optimist or he wouldn't still be a farmer."
- Will Rogers
Here are ten interesting facts about life on the farm that children might find fascinating:
Farmers don't just take care of crops, they also raise animals. On a farm, you might find cows, pigs, chickens, goats, sheep, and even horses!

Tractors are a farmer's best friend. These powerful vehicles help plow the fields, plant seeds, and harvest crops. Some tractors are so big that they have tires taller than a grown-up!

Farms come in different types, such as dairy farms where cows are milked, vegetable farms where fruits and vegetables are grown, and even fish farms where fish are raised.

Farmers have to wake up early in the morning to start their work. They need to make sure the animals are fed, the crops are watered, and everything is in good shape.

Scarecrows are not just characters in stories. Farmers use scarecrows to scare away birds that might eat their crops. These scarecrows are made to look like humans and stand tall in the fields.

Bees are important on the farm because they help pollinate flowers. They fly from one flower to another, transferring pollen and helping fruits and vegetables grow.

Farmers have special machines called combine harvesters that can cut and collect ripe crops like wheat, corn, and soybeans all in one go. It makes the harvesting process much faster!

Farms are not just for growing food. Some farms have beautiful sunflower fields, pumpkin patches, or even mazes made of tall corn stalks. These places are fun to visit during certain seasons.

Sometimes, farmers use big round bales of hay to feed their animals. Kids can climb on these bales and have a great time playing hide-and-seek or pretending they're on a giant castle!

Life on the farm is full of interesting sounds. You can hear cows mooing, chickens clucking, pigs snorting, and tractors rumbling. It's a symphony of farm sounds!
These facts give children a glimpse into the exciting and diverse world of farm life, showcasing the animals, machinery, and activities that make farming an interesting and important part of our lives.