Bilingual Paint by Numeros Oval Rug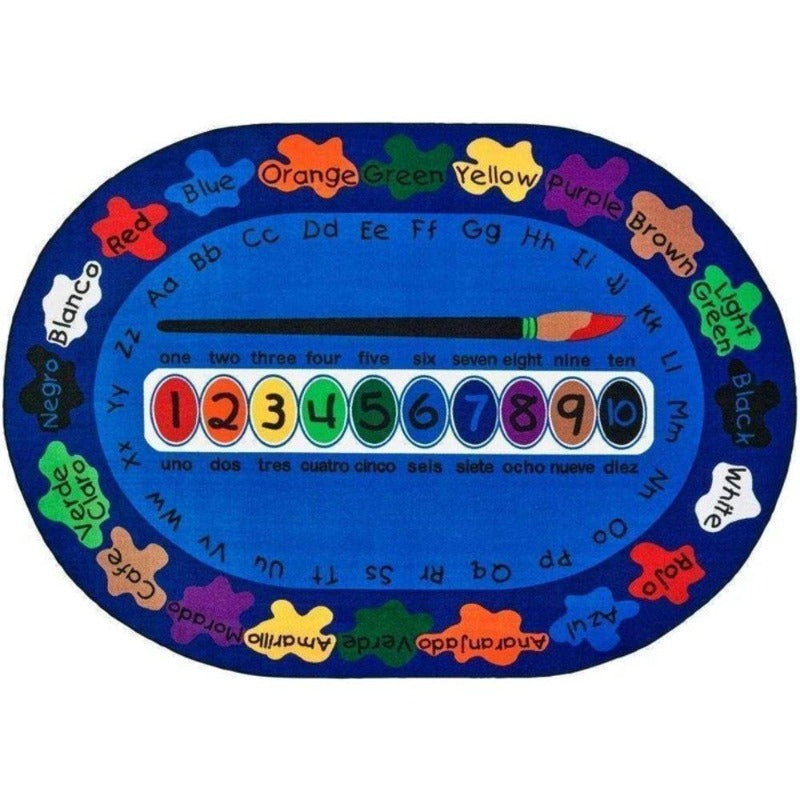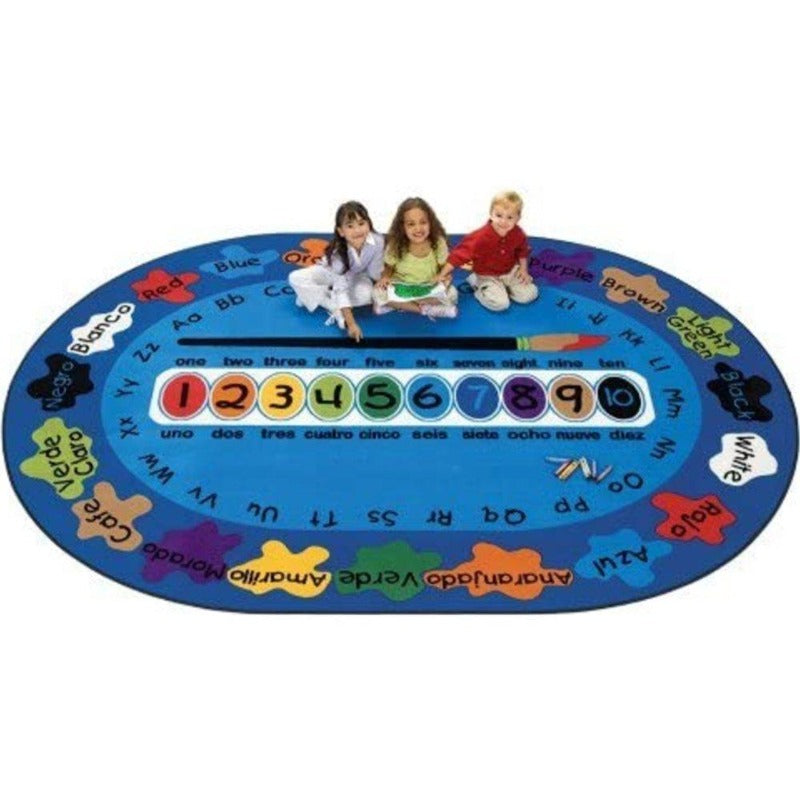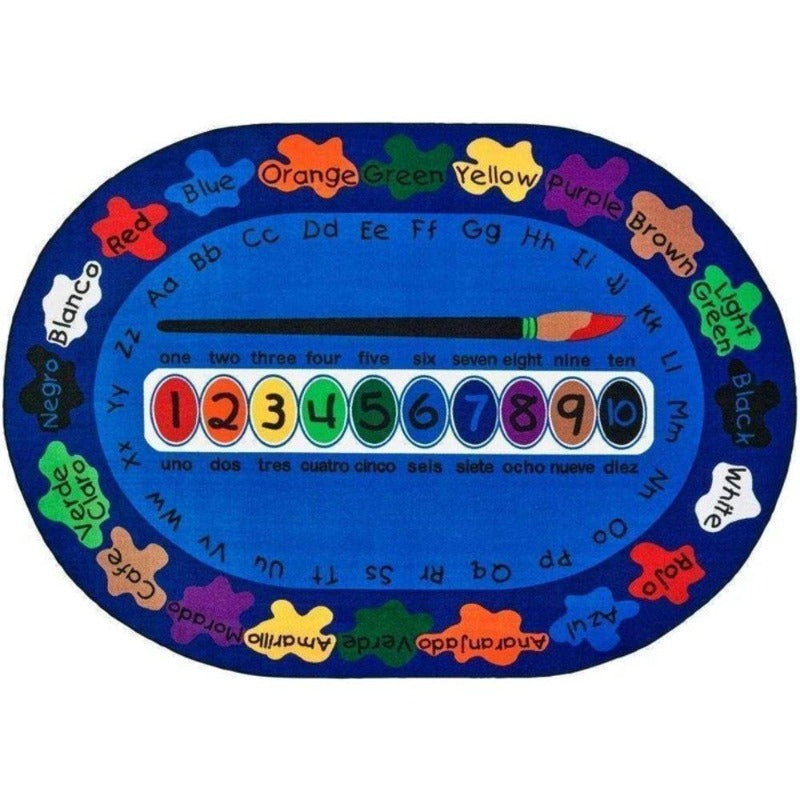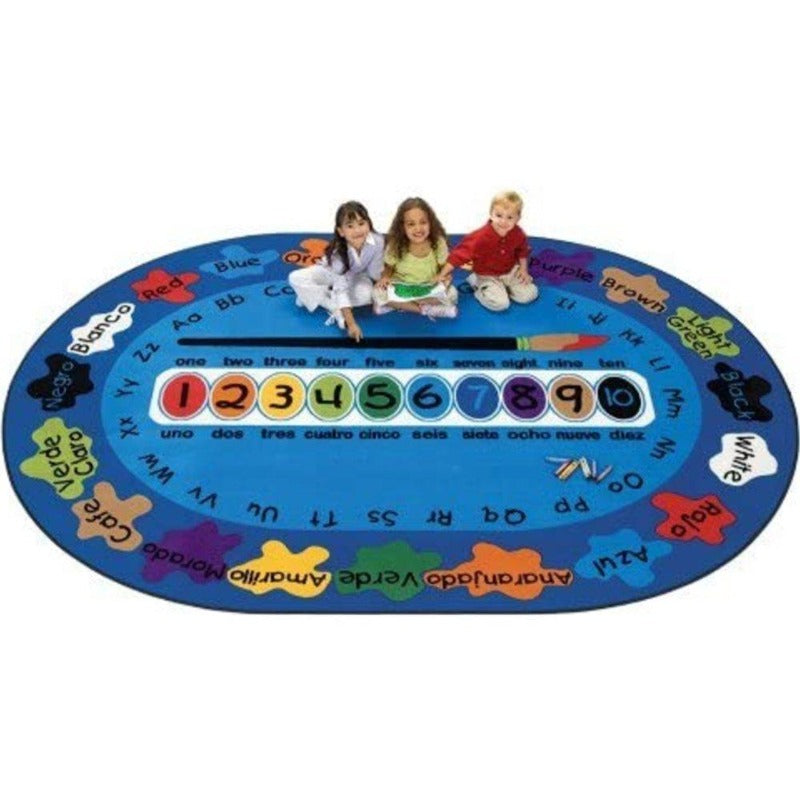 Bilingual Paint by Numeros Oval Rug
Product Description
Description

Delivery 3 - 7 Business Days
Description
The Bilingual Paint by Numeros Oval Rug is an educational and colorful high quality carpet that is great for schools, daycares, therapy clinics, WICS and other places where kids learn English and Spanish.
Sizes: 6'9 x 9'5 and 8'3 x 11'8 
Dive into a world where language and numbers intertwine seamlessly. This rug is more than just a floor covering; it's a gateway to bilingual mastery. With its captivating design, students will be drawn to explore and discover the fascinating world of colors and numbers in both English and Spanish.
Immerse your students in a language-rich environment that extends beyond the confines of traditional teaching methods. The rug's dual-language color palette not only introduces essential vocabulary but also sparks conversations that promote cross-cultural understanding. As children walk, sit, or lie on this rug, they absorb language through visual and tactile experiences, making learning both dynamic and memorable.
Meets NFPA 253, Class 1 Firecode
Anti Static, Anti-Microbial and Carpet Stain Protection
Green Label Plus Certified
Designed to cater to diverse learning styles, the rug accommodates kinesthetic, auditory, and visual learners. Its vibrant colors and playful layout provide a feast for the eyes, while its numerical patterns engage logical thinkers. Additionally, the rug's soft and comfortable texture offers a cozy place for students to gather, ensuring that learning experiences are enjoyable and memorable.
Incorporate the Bilingual Paint by Numeros Oval Rug into your classroom, and watch as language and numbers come alive. This rug transcends its physical presence, becoming an integral part of your educational space, inspiring young minds to embrace learning with enthusiasm and curiosity.
Double-stitched serged edges

Assists in allergen particle control

Made in the USA
La pintura Bilingüe por Oval Numeros Aula Rug es una cobertura educativa y colorido piso que es ideal para escuelas, guarderías, clínicas de terapia, de WICS y otros lugares donde los niños aprenden Inglés y Español
Made by Carpets for Kids
Delivery 3 - 7 Business Days
This rug ships factory direct from Georgia.
Ground delivery is 3 - 7 Business Days
We will email you the tracking number when your order ships.
LOVE IT! Great Design!
Love this carpet. Seems durable. Rolled out easily. The kids love it. I love being able to use it to teach and reinforce - letters numbers / counting colors and Spanish.