Ocean Adventure Play Activity Wall Toy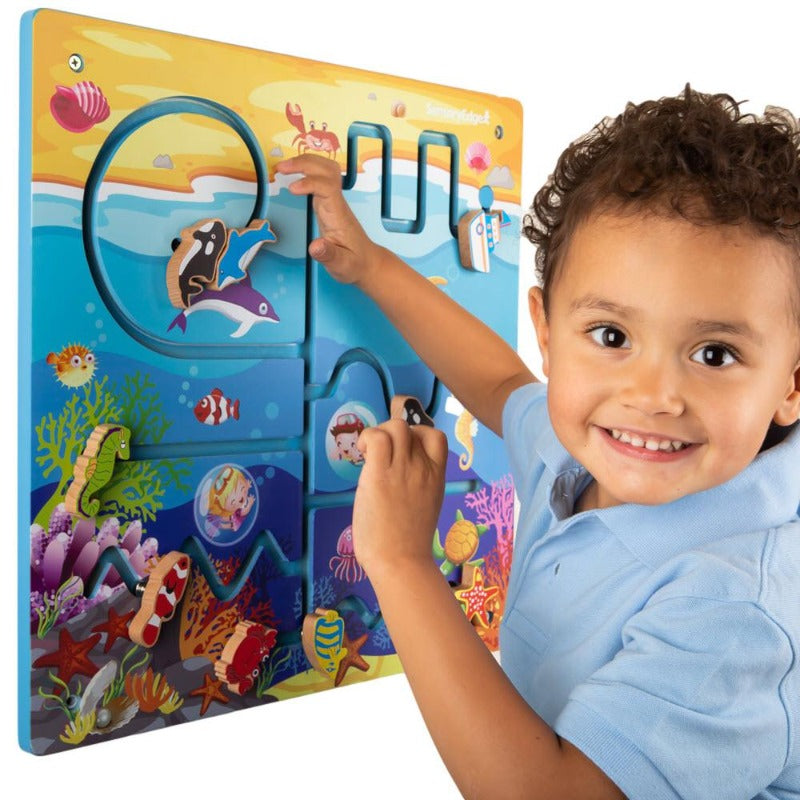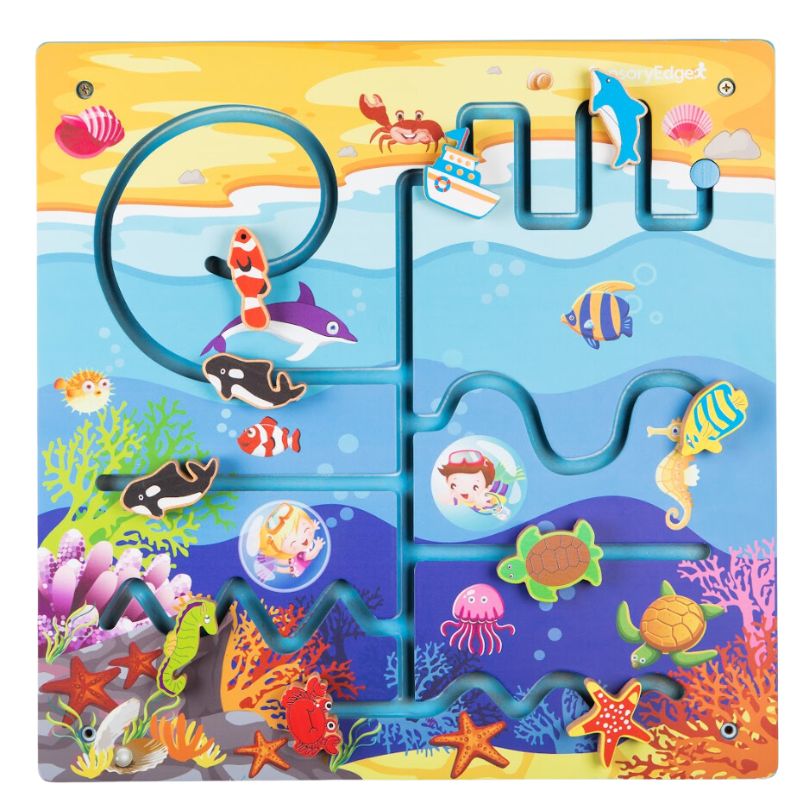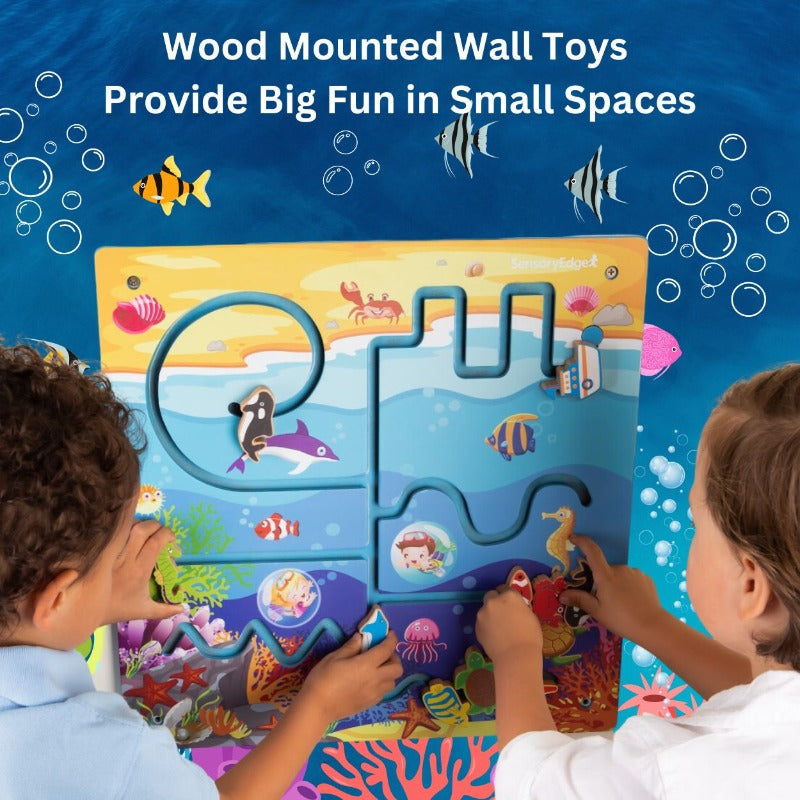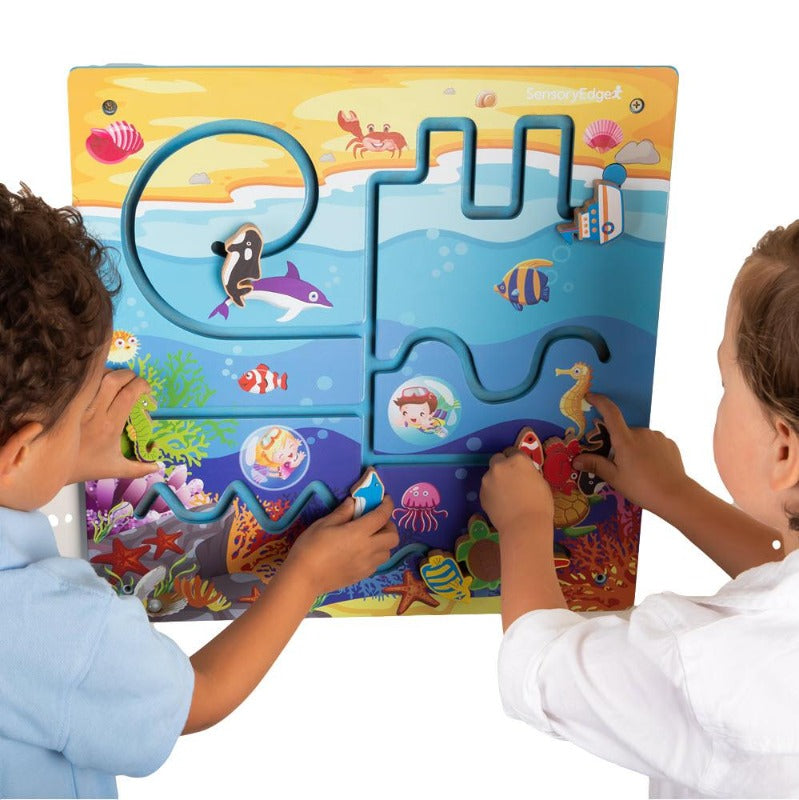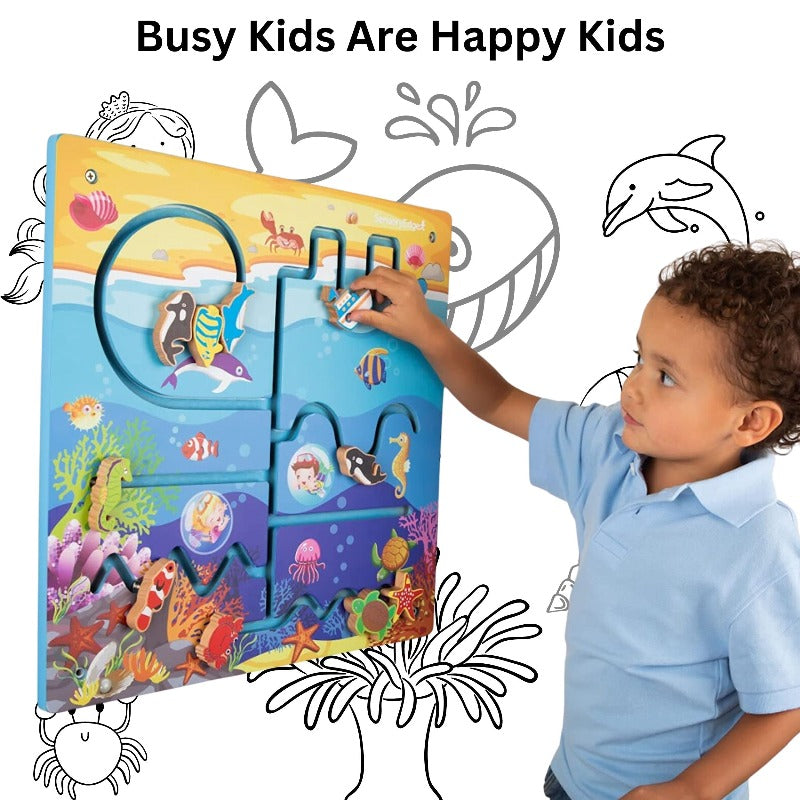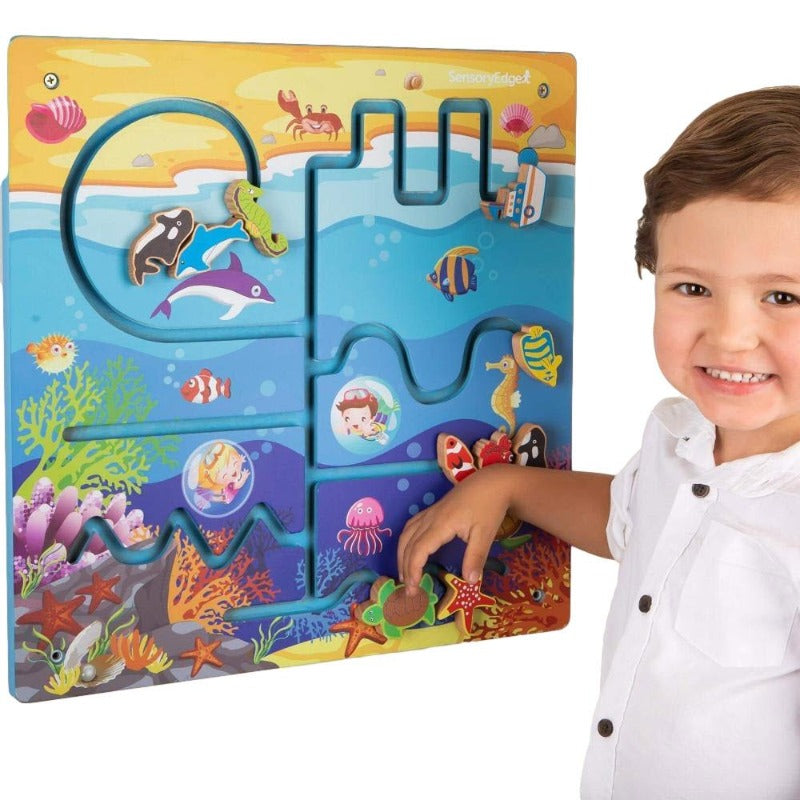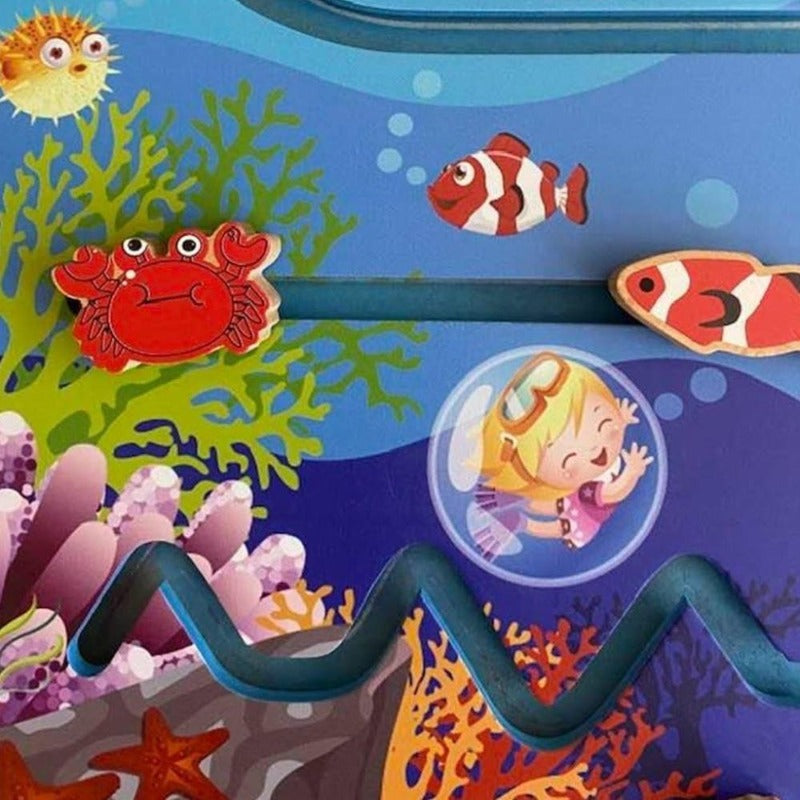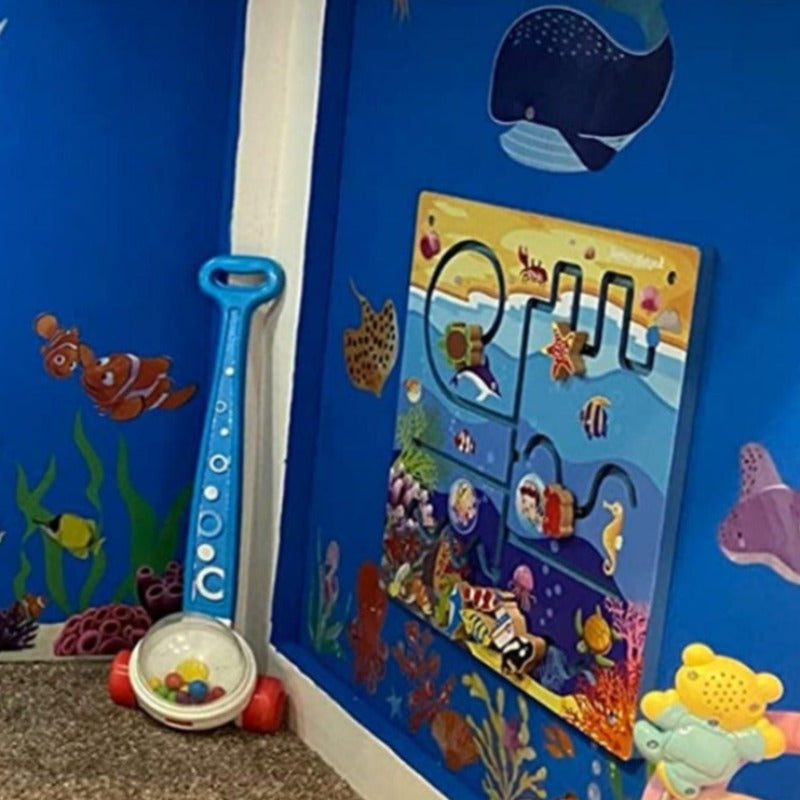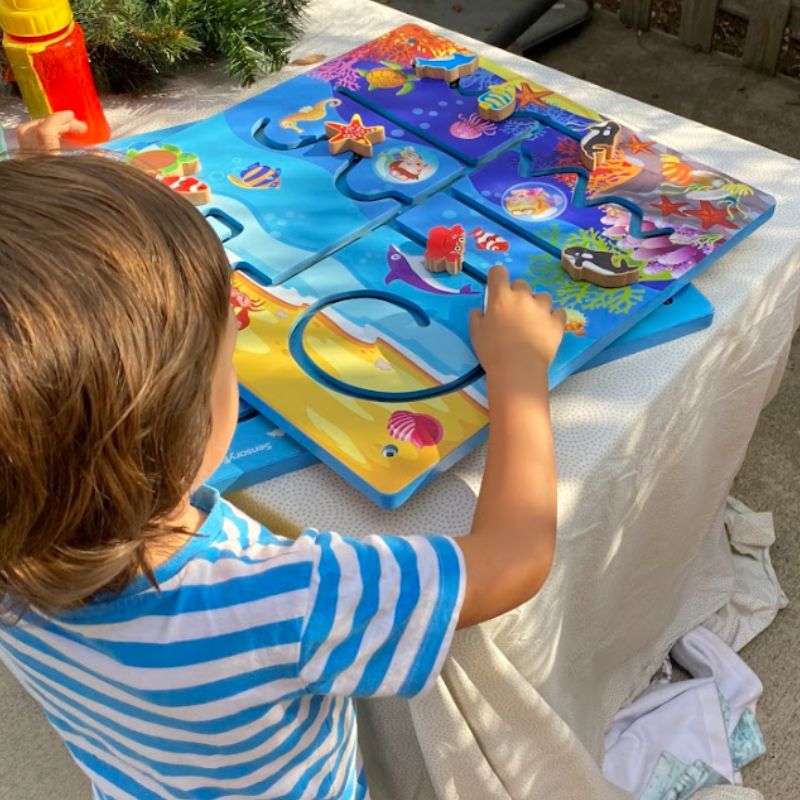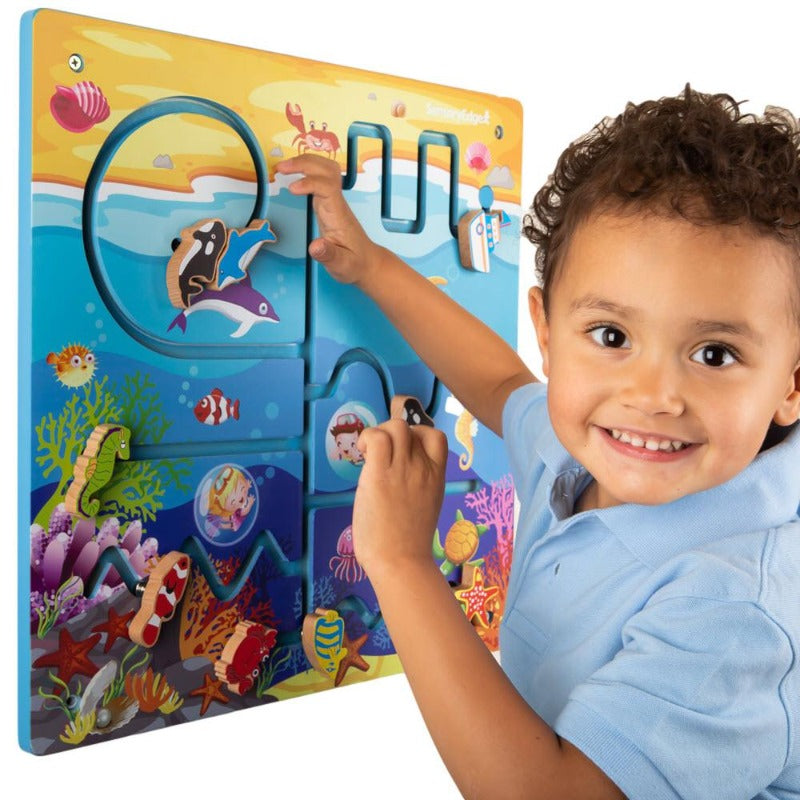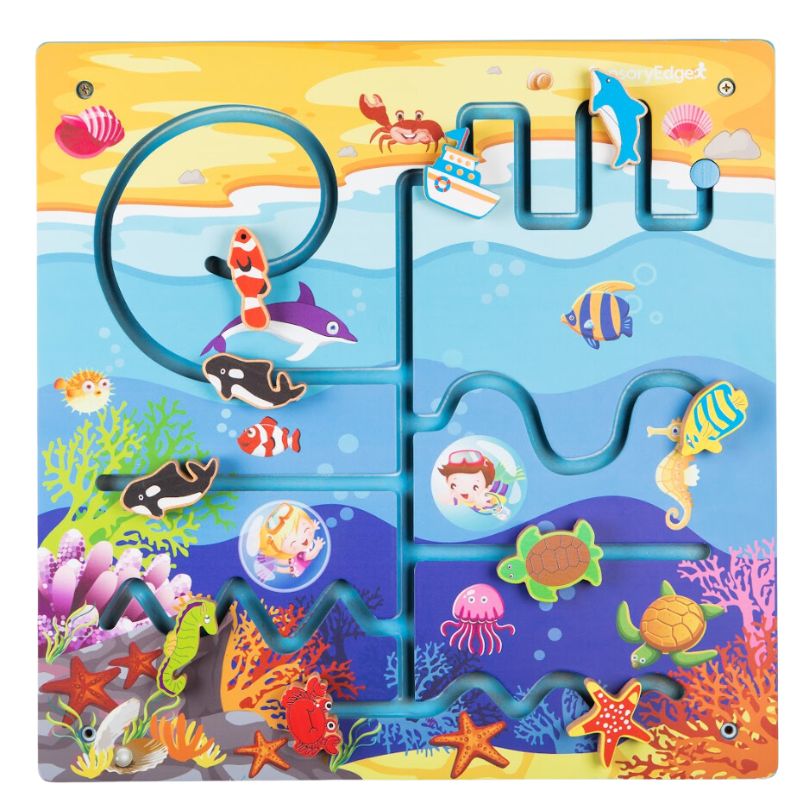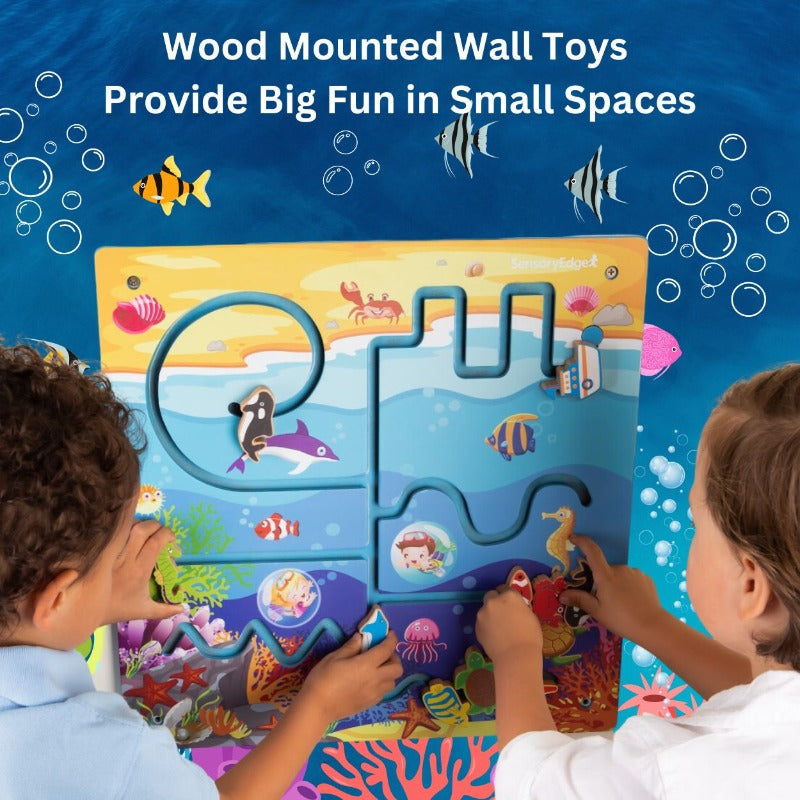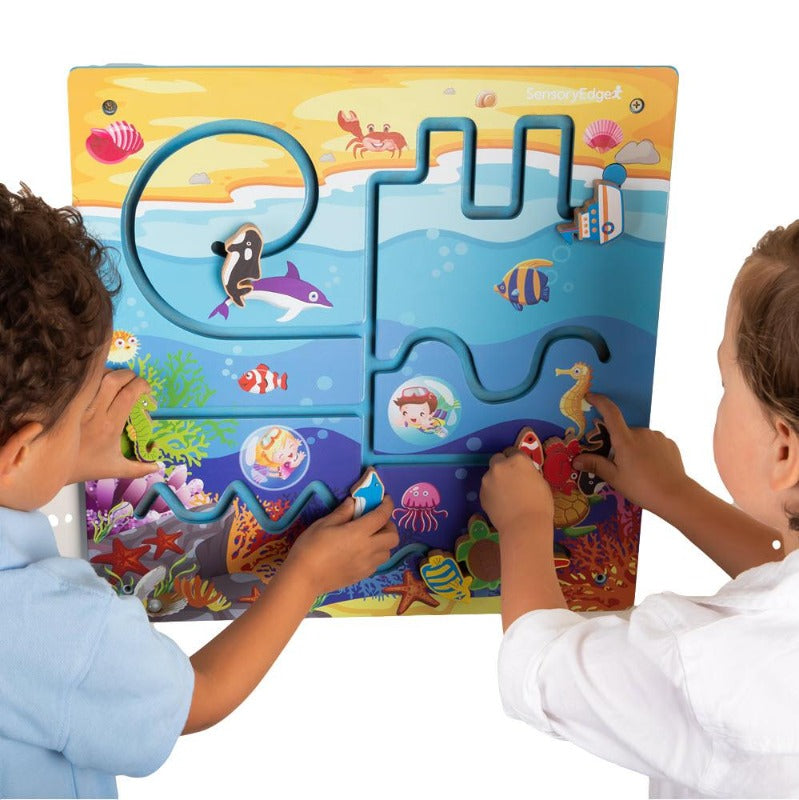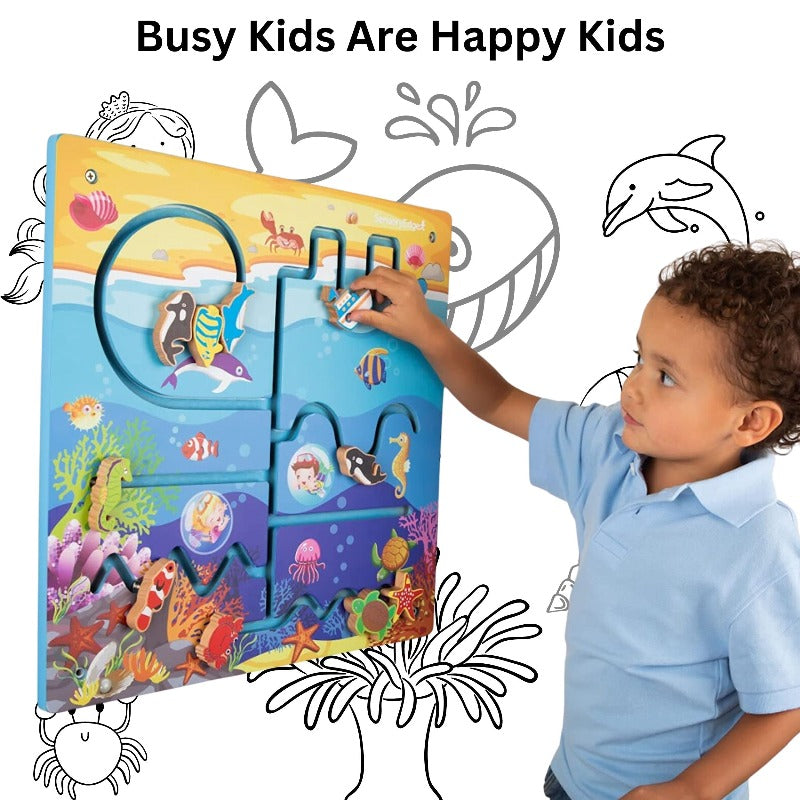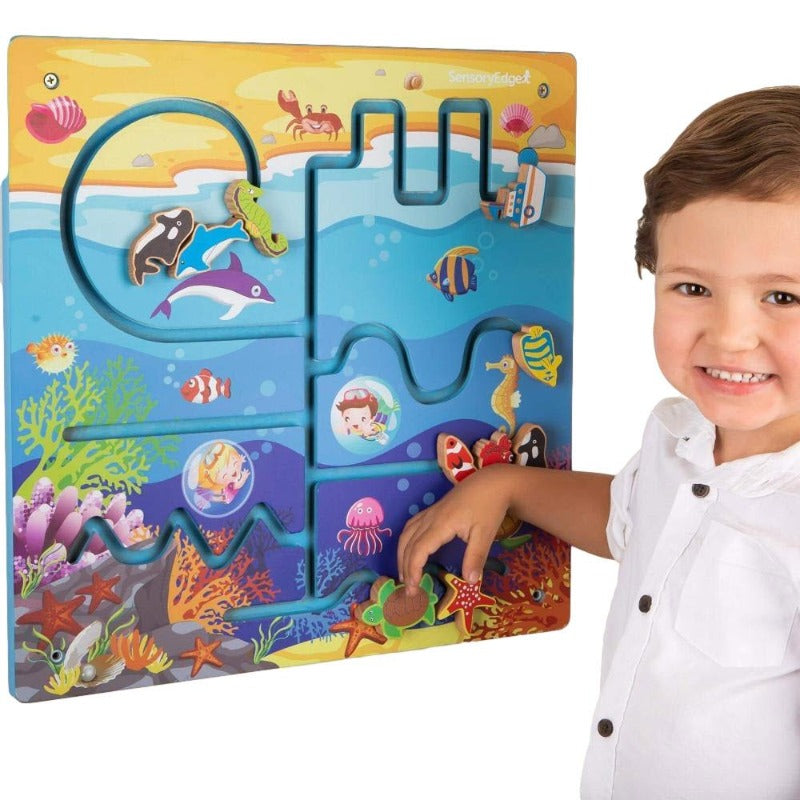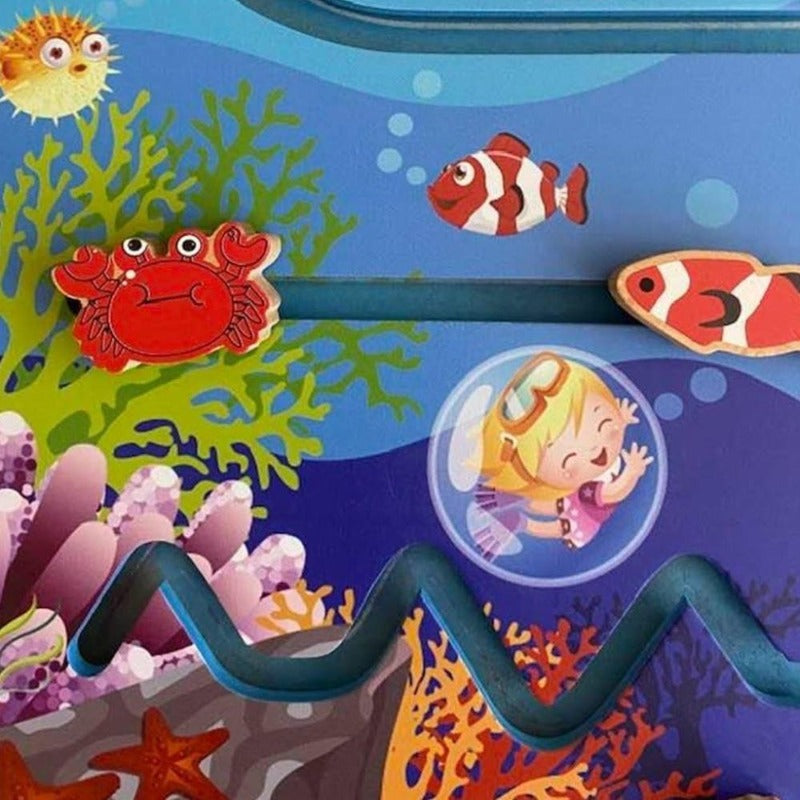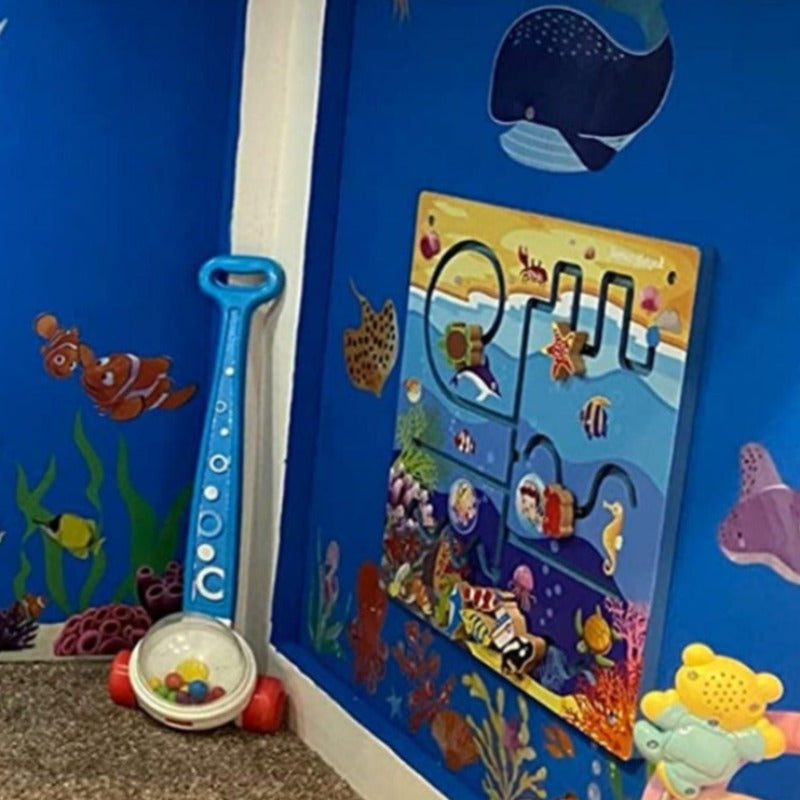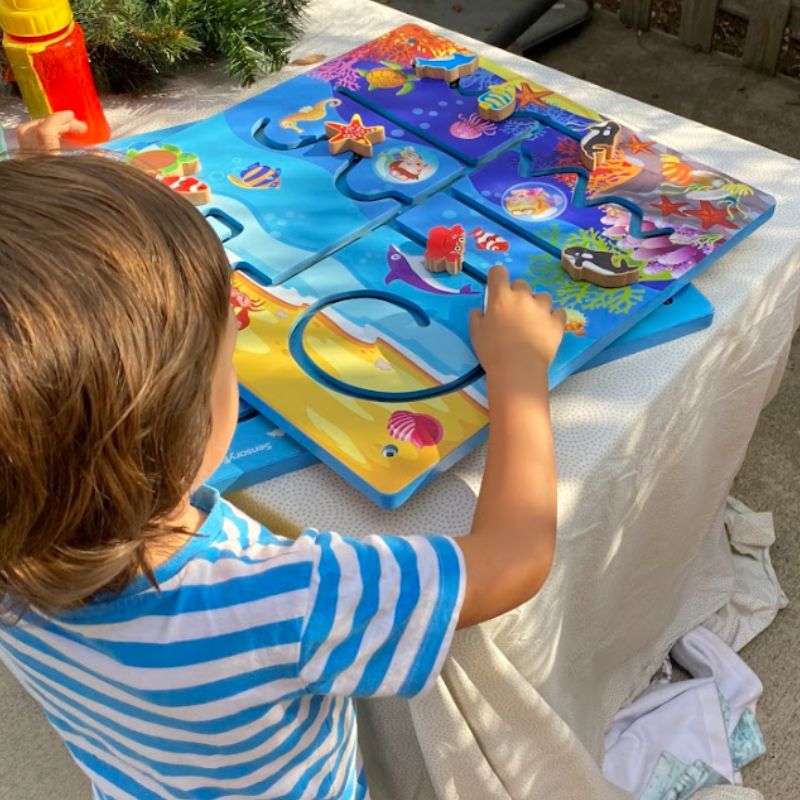 Ocean Adventure Play Activity Wall Toy
Product Description
Description
Dive down deep and discover creatures of the sea with the Ocean Adventure Play Panel Wall Toy. Turn playroom walls into fun with this chunky knob activity toy for toddlers and young children.
Size: 17 3/4" x 17 3/4" x 3/4" Weight 4 lbs
The sea animals on the pathfinder are fun for children to move and spin around as they create their own stories about underwater exploration. The toy helps children with their fine motor skills as they maneuver the turtle, starfish, dolphin, whale, crab and fish around to meet new friends. 

The beautifully painted play panel makes a great learning tool at home, schools and waiting areas. Storytelling will come pouring out of their creative minds. The pathfinder panel helps improve motor skills, hand-eye coordination, descriptive language, counting, color, shape, space and reasoning skills.
SensoryEdge Exclusive

The pre-drilled holes make it easy to mount and includes anchors and screws.

Fully tested according to the highest consumer standards

Decorate toddler rooms, therapy clinic walls and waiting area spaces

Small footprint but big fun. Keeps children busy and entertained
Designed for walls but can also be mounted on tabletops.
💕 Chunky Knobs
😍 Colorful Graphics
🙋‍♂️ Fine Motor Skills
😌 For Home or Office
WALL TOYS Provide BIG FUN in SMALL SPACES - our Ocean Adventure WOODEN Interactive WALL Panel will delight children as they move the creatures through the beautifully designed Sea Scene. Our ACTIVITY WALL MAZE Toy can turn walls into a play area. Mount this kids room décor at the right height for your child for the perfect fit. You can raise it as they grow or get the set and place them at different heights for a greater age range.

BUILDING SKILLS THROUGH PLAY is how kids learn. We designed our Kids Learning Decor Activity Center to be play with a purpose. The vibrantly colored chunky creature shapes glide through the toddler ACTIVITY BOARD and are perfect for toddlers and preschoolers. The activity will help build fine motor skills, hand-eye coordination, visual tracking, and finger strength. All necessary for pre-writing skills.

SAFE & STURDY WALL GAME to keep your little ones learning and playing while you have peace of mind. Our wall panels are fully tested to the highest standards. There are no loose pieces to swallow or lose. No assembly required – just install the wall panel by mounting the Sensory Busy Board on the wall with the included hardware then let the kids play the day away. The advantage of a learning activity center with a space-saving design.

The PERFECT KID SIZE WALL GAMES - our Sea Centric Wall Mounted Busy Board is 17.75" x 17.75" and weighs about 4 lbs. The Sensory maze puzzle is made of wood and is an excellent toy for kids of all abilities. It can help turn any wall into the perfect play area in your home, office or therapy centers.
The sea, once it casts its spell, holds one in its net of wonder forever.  
- Jacques Cousteau
Here are ten interesting facts about the ocean that children might find fascinating:
The ocean covers about 71% of the Earth's surface, making it the largest habitat on the planet. It's like a gigantic underwater world!

The ocean is home to a tremendous variety of marine life. From tiny colorful fish to giant whales, there are about 230,000 known species, and scientists believe there may be millions more yet to be discovered.

The ocean is not just deep; it's incredibly deep! The deepest part of the ocean is called the Mariana Trench, and it reaches a staggering depth of about 36,070 feet (10,972 meters)!

The ocean is filled with beautiful coral reefs. These underwater structures are made by tiny coral animals and provide shelter and food for many different marine creatures.

Some sea creatures are bioluminescent, which means they can produce their own light. When they glow, it creates a magical and mesmerizing display in the dark depths of the ocean.

The ocean has tides, which are caused by the gravitational pull of the Moon and the Sun. This rising and falling of the water can create exciting opportunities for activities like beachcombing or building sandcastles.

The ocean is not only home to fish and mammals but also to amazing creatures like jellyfish, octopuses, seahorses, sea turtles, and colorful coral.

The ocean is a vital source of oxygen for our planet. Phytoplankton, tiny plants that float in the ocean, produce a significant amount of the oxygen we breathe.

Some whales are the largest animals on Earth. The blue whale, for example, can grow up to 98 feet (30 meters) long and weigh as much as 200 tons!

The ocean is full of sunken treasures. Many old ships, including famous ones like the Titanic, rest at the bottom of the ocean, preserving a piece of history and attracting adventurous explorers.
These facts highlight the wonders and diversity of the ocean, showcasing its vastness, incredible depths, fascinating marine life, and the importance of preserving this unique ecosystem.